Our Programs
'Creating An Appetite For Life' Education Programs
The vision for Maggie Beer Foundation (MBF) is to ensure that all residents in aged care are provided with fresh food with flavour. To achieve this, we need to engage and educate chefs/cooks/kitchen hands in the aged care sector. Whilst there are some amazing examples of great food in aged care, there are so many others where there is a general acceptance that aged care food budgets cannot be full of flavour and utilise fresh seasonal produce - there is fresh thinking to be had and ideas to be shared.
Maggie Beer is a successful cook and an inspirational leader who can educate and inspire those in the industry, but she can't do this in isolation, so we need advocates in the field to support the Foundation's work.
Our Education Programs offer an opportunity for a selected number of chefs and cooks from residential aged care homes to participate in a 2 or 3 day workshop with Maggie and aged care industry experts. These Education Programs are aimed at those who are committed to making a difference in their aged care home kitchens and who can influence those controlling food budgets, supplier relationships, menus and dining room management.
Our next workshop will be held in the Barossa in August 2017. Please visit the News page or the Register Your Support page to subscribe to the newsletter and be alerted on upcoming workshops.
Wellbeing Gardens Program
In addition to a highly successful 'Creating an Appetite for Life' Education Program, the Maggie Beer Foundation launched the Wellbeing Gardens Program in 2015. Supported by the John Saville Eastwood Estate, Maggie Beer Foundation awarded a total of 10 grants to aged care homes across Victoria in order to give residents within aged care facilities access to a beautiful, outdoor, living environment. From the nutritional benefit of an edible garden at the back door, to being involved in a flowering garden, everyone feels happier in a beautiful, outdoor environment. Having a space to be proud of, to 'potter in' and give a sense of purpose improves people's health and, for many, gardening enables them to undertake an activity that they have always loved.
'Creating an Appetite for Life' debuts in Brisbane in 2018!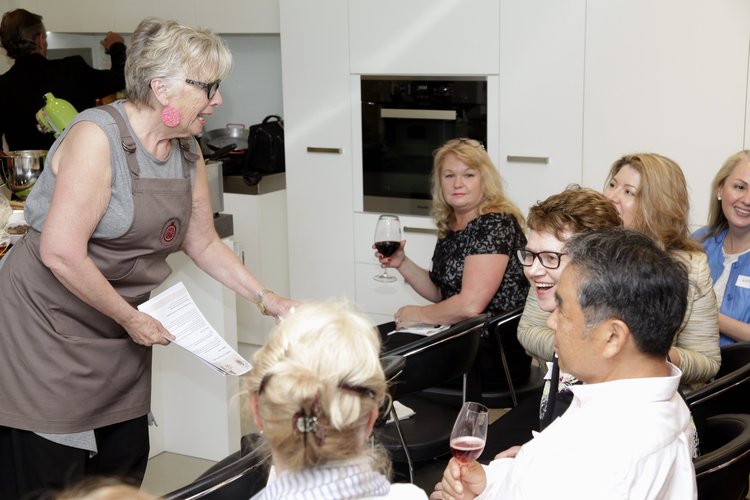 The Maggie Beer Foundation's pioneering program, Creating an Appetite for Life, is coming to Brisbane for the first time, Sunday 8 - Tuesday 10 April, 2018.
Once again, the Maggie Beer Foundation is sending out an invitation to passionate aged care cooks and chefs to engage in an Education Program that has proven the strength of its impact with participants around the country. As Maggie explains, "It would come as no surprise that I loved food all my life; it's my joy, and sometimes my heartache, but we can fix that, and together, we can improve the health, happiness and quality of life of every older Australian."
Because Maggie has limited the program to only 30 cooks and chefs, this is very much a hands on experience for everyone taking part; a chance to ask as many questions as pop into your head, trouble-shoot the stumbling blocks of cooking in aged care homes, put some fresh thinking around nutritious ingredients, food budgeting, supplier relationships, aged care specific recipes, menus and dining room management.
As always, Maggie has pulled together her A-Team to ensure important ground is covered in a most delicious manner. Amongst the leading experts joining Maggie for the presentations, will be Peter Morgan-Jones, well known to many in his role as HammondCare's Executive Chef. Peter will be discussing texture modified foods and cooking for those with dementia, along with information from specialised aged care dieticians and food safety experts.
All work and no play is far from Maggie's ideal learning environment, so be prepared to mix inspirational teachings with a beautiful dinner and drinks at one of Brisbane's many fabulous restaurants.
Please note that tickets are based on a 'first in best fed' policy, and are only for those who fulfil the criteria of a chef or cook in aged care, Australia-wide. Upon payment you will be sent a link to complete your registration details. Get your tickets here.
Maggie Beer Foundation is particularly excited to announce a generous offer for a number of fully paid scholarships supported by the IOOF Foundation – to be considered for one of these places please fill out the Application Form here.
'Food for Thought' debuts in Brisbane in 2018!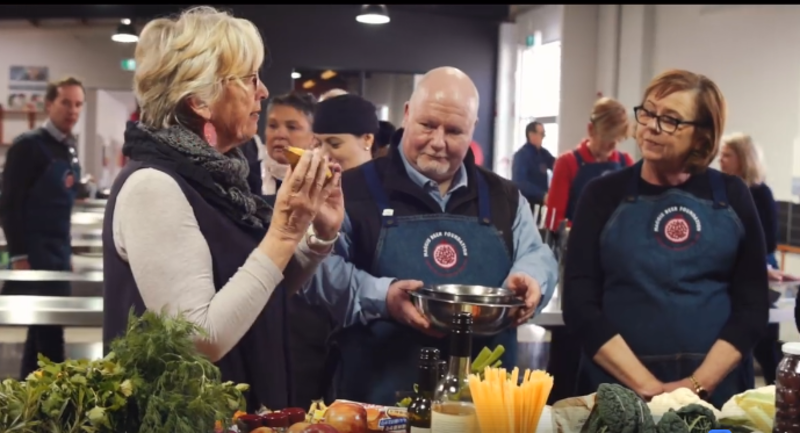 Knowing that a meal cooked with care is one of the very best ways of nurturing wellbeing, the Maggie Beer Foundation was established to Create an Appetite for Life, regardless of age or health restrictions. And the best way Maggie knows to effect the change she champions is to go to the source of the decision-making process; the CEOs and managers of aged care homes.
In order to effect change in a way that is greater than the sum of its parts, the Maggie Beer Foundation is once again offering the proven success of a specialised workshop for CEOs and managers, Food For Thought, Wednesday 11th April in Brisbane.
Following on from the Creating an Appetite for Life Education Program, dedicated to cooks and chefs, Maggie's focus will shift from those creating the food for change, to those in decision making roles to best stream line ideas into action. Food For Thought is a workshop dedicated to opening a dialogue with CEO's, troubleshooting the issues that may be hampering full flavoured, highly nutritious food being enjoyed in aged care homes across Australia.
Food For Thought will offer CEOs and managers across Australia the chance to network with others in management roles, hear from food-focused aged care providers and guest speakers, take part in lively discussions and find out more about the work Maggie Beer Foundation is doing and how best it may aid the decision-making in aged care homes Australia-wide. CEOs and managers who attend will also try their hand in the kitchen with Maggie for the infamous Maggie Beer Foundation Mystery Box Challenge!
To take part in Food For Thought and keep this important conversation going, please book your spot sooner, rather than later, as numbers are limited. Click here to secure your place today!