News
I'm Old, Not Stupid!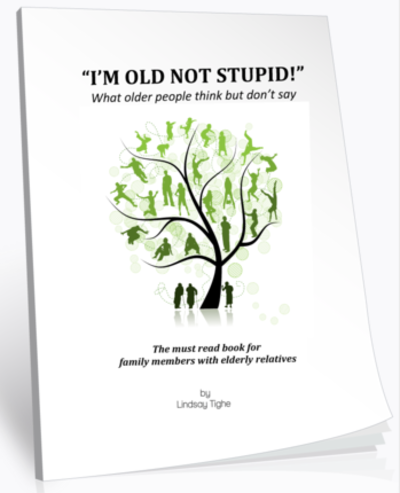 The way we care for older people in our communities is rapidly changing and, for the past five years, Lindsay Tighe from 'Better Questions Are The Answer' has been working with aged care professionals, training them in skills to enable older people to live a more healthy, happy and independent life. The book 'I'm Old, Not Stupid!' makes these skills available to family members of older people and provides strategies to communicate and engage with them in a way that enables better outcomes and supports their independence and wellbeing.
Most of us struggle with knowing how to cope with and adapt to the differing needs of elderly parents and relatives so this must read resource will provide invaluable insights and guidance about how to do this more effectively.
You can read more about the book and other resources by Lindsay here.
Alzheimer's Australia ACT 'Round the Table' Breakfast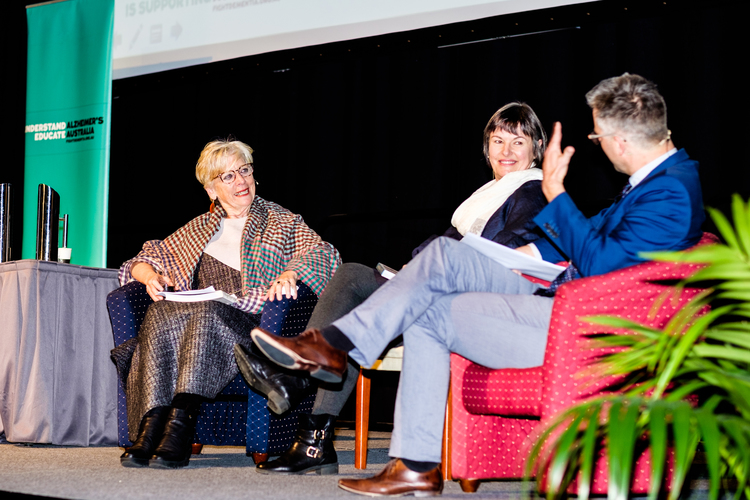 Last month, Alzheimer's Australia ACT hosted a business breakfast - 'Gather 'Round the Table' - with Maggie and Ngaire Hobbins as special guests. Maggie and Ngaire appeared in conversation at the breakfast and shared their philosophy and wisdom about the impact of good food on a person's general wellbeing, state of mind, and brain health.
The breakfast also kick started Dementia Awareness Month in the ACT. By the end of this year there will be more than 5000 people living with dementia in the ACT alone and more than 400 000 people living with the condition Australia-wide.
There are very few people who have not been impacted in some way by dementia – either living with the disease or knowing a family member, friend, neighbour or colleague who does, or who carers for someone living with dementia.
A diagnosis of dementia does not mean that you are alone however, far from it. Alzheimer's Australia ACT is the peak body in the Canberra region supporting those living with dementia and their families, and they provide support services, a wide variety of social groups, and education within our community.
This was not an average business breakfast – it was space where good local food was celebrated, where inspirational ideas around nutrition and positive ageing were shared and generated, where serendipitous connections were made, and where a deeper understanding of dementia in our community was fostered.
"My takeaway is to live a healthy life with good food and really take time to enjoy the company at that moment. No more rushing meals" - Shikha Colwill, breakfast attendee.
Success of the Barossa 'Creating An Appetite For Life' Education Program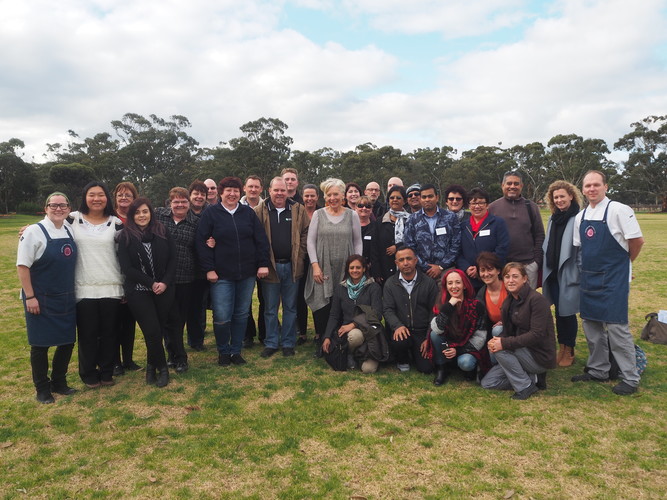 From 20 - 22 August 2017, thirty chefs and cooks from aged care homes across Australia participated in a workshop unlike any other - the 'Creating An Appetite For Life' Education Program.
Guests travelled to the Barossa to partake in the program, which was held at Nuriootpa High School over the course of two days.
As an introduction on day one, each chef or cook discussed what their biggest challenges were, and as a group, tried to find a solution.
Chefs and cooks had the opportunity to network with others in the industry, sample delicious menus that they could replicate back in their workplaces, test out their skills in cooking challenges and hear from a range of experts in the industry. Guest speakers throughout the two days included:
Olivia Farrer - Dietitian, Flinders University
Ran a workshop 'How to rock your menu review'
Tara Grahame Cochrane - Landscape Architect of healing and therapeutic landscapes and co-creator of Gardens That Care
Highlighted the benefits of gardens in aged care
Rebecca Sullivan - Granny Skills
Rebecca hosted an interactive session about her mission to safeguard our 'granny skills,' by protecting food heritage, culture, skills, knowledge and tradition, passing down what grannies know best.
Claudia Ait-Touati - CEO Careship Coorong
Discussed the benefits of care farming for those with dementia
Mel Roberts - Maggie Beer Foundation Chef
Lively discussions were had around work flow and time management in the kitchen
Peter Morgan-Jones - Executive Chef, HammondCare
Peter demonstrated just how delicious (and appealing!) texture modified and finger foods can be. Demo included hands-on experience for participants.
James Shepherd - Food Safety Systems
Discussion around current food safety regulations in aged care kitchens.
Professor Lee – Fay Low, University of Sydney
Enlightened chefs and cooks how they can be change agents in their aged care workplaces.
Chefs and cooks left the workshop feeling inspired and eager to put their learnings into practice back at their homes.
Watch this space to find out about upcoming workshops in 2018!
Food For Thought CEO & Managers Workshop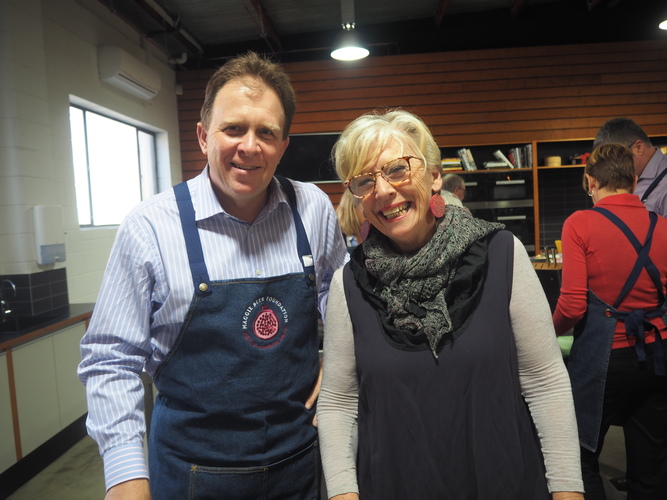 We were very proud to welcome 30 CEOs and managers working in aged care homes across the country to our 'Food For Thought' CEO Workshop on 23 August 2017, at Sprout Cooking School in Adelaide.
Following on from the Creating An Appetite For Life Program, dedicated to chefs and cooks, Maggie's focus shifted from those creating the food for change, to those in decision making roles to best streamline ideas into action. The workshop was dedicated to opening a dialogue with CEOs, troubleshooting the issues that may be hampering positive food experiences in aged care homes.
Maggie began the workshop by introducing how the Foundation came to be and then asked the assembled room to identify what they would change about their aged care homes. Not surprisingly, food came out as a hot topic. You can read the responses here
Guests then heard from a variety of speakers including:
Kate Swaffer - Dementia Alliance International
Spoke about her experience of living with dementia
Identified that skills get lost more quickly if they are not used
Promote independence, not dependence
Associate Professor Lee-Fay Low - University of Sydney
Identified that different leadership styles suit difference situations
Discussed how food culture is changing in aged care homes
CEOs need to identify the challenges and implement a change plan
Dr Tim Henwood - Community Wellness and Lifestyle at Southern Cross Care
You are never too old to begin progressive and weight bearing exercise
Exercise proven to reduce falls risk, as well as physical and mental symptoms of disease
Evidence that the amount of protein required increases with age, as well as disability, disease and participation in exercise
Professor Wendy Lacey - UniSA
Discussed how there is currently no international convention on rights of older persons but the Universal Declaration of Human Rights 1948 states 'everyone has the right to a standard of living adequate for the health and wellbeing of himself and of his family, including food, clothing, housing and medical care'
CEOs need to be aware that food and nutrition will become more tightly regulated, following the current parliamentary review into Accreditation Processes
Jane Mussared - Chief Executive at COTA SA
In 2016, 17% of the population was aged 65 and older, by 2042, that will have increased to 25%
The current generation of elderly have greater expectations, they are a more diverse group and are more educated
CEOs will need to consider these changes to make their aged care homes attractive for potential residents
Peter Morgan-Jones - Executive Chef at HammondCare
Peter discussed the importance of engaging all senses as we eat, and to do the same when providing food for residents in our care.
CEOs and managers also got their hands dirty during the Mystery Box Challenge (refer to image of Allen Candy - CEO of Life Care, and Maggie!). The aim of the challenge was for guests to experience just how difficult it is to produce a meal for a resident in aged care.
Overall a very rewarding, inspiring and thought-provoking workshop for all who attended.
Osso Bucco with Sweet Potato Mash, Salad Greens & Gremolata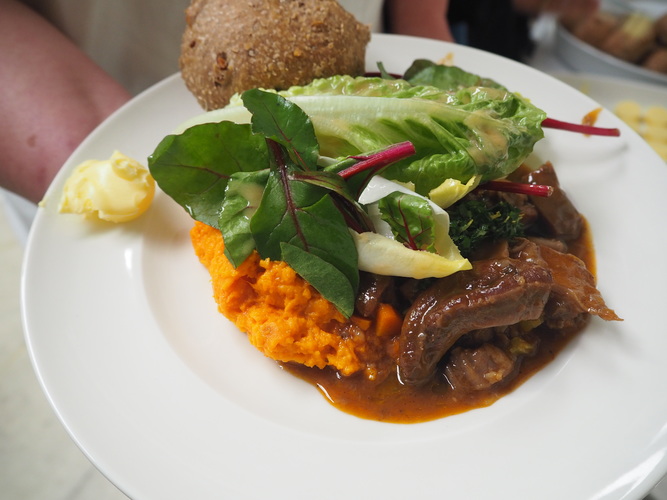 Ingredients
Osso Bucco
8.5kg osso bucco, bone in (approximately 6 pieces)
3.5 teaspoons grated nutmeg
300g spelt flour
Sea salt flakes and ground pepper
1 cup approximately extra virgin olive oil
100g butter
7 onions, cut into 8
7 garlic cloves, peeled and squashed
4 large carrots, cut into 8
4 sticks celery, cut into 8
15 large sprigs of fresh rosemary
4 tablespoons tomato paste
700ml verjuice or white wine
7L beef stock
Osso Bucco Sauce
7 tablespoons extra virgin olive oil
7 onions, finely diced
7 large carrots, peeled and diced into 1cm pieces
4 tablespoons rosemary leaves, chopped
140 ml good quality red wine vinegar
7 large sticks of celery, diced into 1cm pieces
Sweet Potato Mash
6kg sweet potato, peeled and chopped into 10cm wedges
7 tablespoon extra virgin olive oil
Sea salt flakes
280g unsalted butter
175g skim milk powder
700ml milk approximately
Gremolata
120g finely chopped flat leaf parsley
8 garlic cloves, finely micro planed
Zest of 4 lemons, micro planed
320ml extra virgin olive oil
Sea salt
Method
Osso Bucco
Preheat the oven to 180C. Place the nutmeg and flour into a bowl, season well with salt and pepper and dust the osso bucco pieces.
Heat oil and butter in a large saucepan over medium heat, seal the osso bucco pieces on both sides until golden.
Remove from the pan and discard most of the fat. Add the onion, garlic, carrot, celery and rosemary, cook until lightly coloured. Add the tomato paste and deglaze with the verjuice/wine. Return the meat to the pan, add stock and bring to the boil, skim off any impurities.
Cover the pan with a piece of baking paper and lid/foil. Place into the preheated oven and cook for 2 hours or until the meat is tender and falling off the bone.
Cool to room temperature, then set overnight in the fridge. The following day, discard the set fat, pick the meat from the bones. Heat the sauce and pass into a clean pot, reduce by half.
Osso Bucco Sauce
Pour the oil into a large saucepan, add the onion and cook until translucent, add the carrot and rosemary, cook for a further 10 minutes or until the carrot has softened, deglaze with red wine vinegar. Pour on the reduce stock, add the meat and celery dice and simmer until warmed through and celery just cooked.
Sweet Potato Mash
Heat the oven to 230C. Line a large baking tray with parchment paper. Spread the sweet potato pieces evenly over the oven tray, drizzle with oil and salt, cover with foil and place into the preheated oven.
Cook for 40 minutes or until soft and completely cooked through. Place the sweet potato into a high sided pot with butter, milk, skim milk powder, and mash until smooth.
Gremolata
Combine all gremolata ingredients in a bowl, taste for seasoning.
Serve Osso Bucco over Sweet Potato Mash and top with Gremolata. Add bitter greens or salad leaves if desired.
PDF Recipe Card You may need to right-click the link and 'Save target as...' to download this file.