News
Oat & Buttermilk Pancakes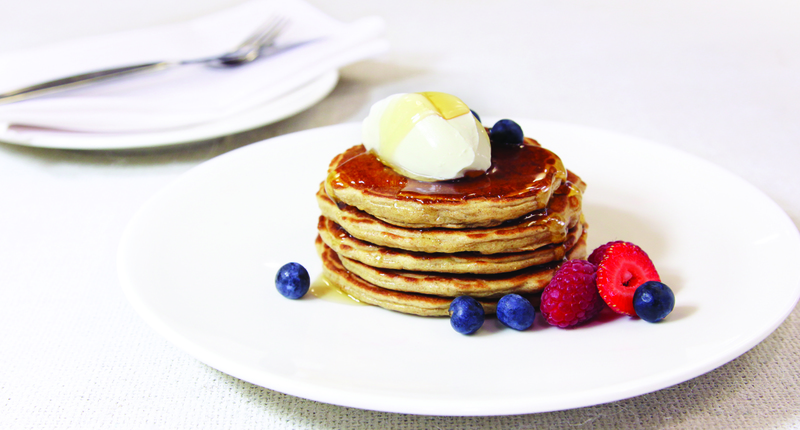 This is Maggie's healthy take on pancakes, filled with the goodness of oats and buttermilk. It may be just the thing to add to your repertoire for breakfast!
Makes 100 pancakes
Ingredients
1550ml buttermilk
2.5 cups rolled oats
¾ tsp sea salt
3 1/3 cups spelt flour
5 teaspoons baking powder
2.5 teaspoons bi-carb soda
10 tablespoon brown sugar
10 eggs
10 egg whites
10 tablespoons Extra Virgin Olive Oil
2 small lemons zested
2.5 teaspoons vanilla bean paste or essence
Method
Pour buttermilk over oats and leave for 10 minutes.
In a fresh bowl, combine the flour, baking powder, bicarb and sugar, stir into the oat mix.
In a separate bowl whisk together the eggs, whites, oil, vanilla and lemon until light. Add to oat mix.
Place a drizzle of olive oil in a pan and allow to sizzle.
Pour tablespoons of pancake mix into pan and cook until golden golden brown on first side and then flip over and repeat.
Allow to cool a little and serve with your favourite topping.
PDF Recipe Card You may need to right-click the link and 'Save target as...' to download this file.
Self-Service Success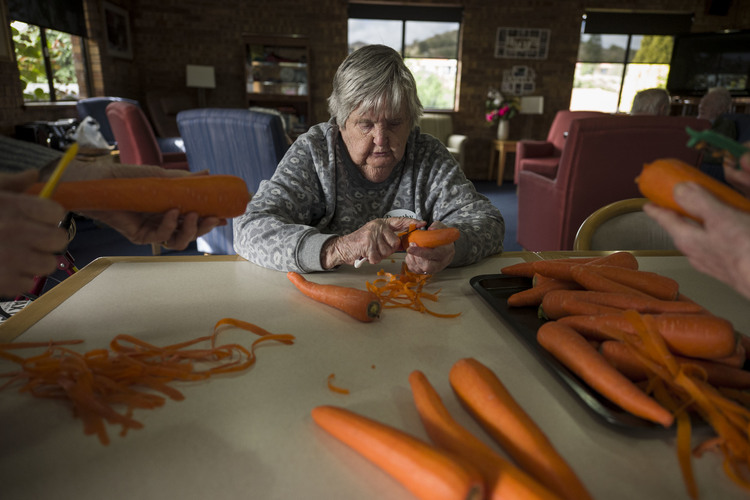 When most people hear the word Montessori they think about education and young people. However, recent studies have shown that it is also very beneficial in an aged care environment.
Giving people living in aged care the opportunity to be as independent as possible so they can make choices and meaningful contributions to their community, is central to the Montessori approach that has been introduced at Western Australia's Catholic Homes.
In January 2014, Catholic Homes began to implement aspects of the Montessori approach at a number of its care residences. This was a fundamental shift in thinking as it moved away from care staff doing things for people living in their residences to doing with them.
The management team identified that this was a significant shift for care staff and to make it a successful and sustainable change, a wide range of strategies need to be implemented. This included clear planning, training, ongoing communication and input from supportive leaders and staff at every stage.
The initial stages of the project focused on the environment; activity rooms became family rooms, urns and dishwashers were installed so residents can make their own tea and coffee and activity stations were set up so people can engage in hobbies.
Elizabeth Oliver, Senior Occupational Therapist and project leader, said Ocean Star Village was the first location where people were given 'job roles' to fit their personality, skills and abilities. The roles were as simple as folding tea towls and napkins to sorting and delivering the mail throughout the residence.
'The results were fantastic immediately; overall wellbeing improved and everyone became more active and cheerful. Since the project has become embedded the involvement of residents has increased and the atmosphere is very positive,' Elizabeth said.
Meal times can often be one of the most depressing times in aged care. The traditional model of catering involves residents ordering anywhere from one day to one month before the meal and sometimes that choice is taken away from them if they cannot complete the forms themselves. Some care residences have meals cooked offsite and transported to site to be heated. Catholic Homes wanted to bring the joy and hospitality back to the dining room. Plastic table cloths, paper napkins and bibs were replaced with linen tablecloths and napkins, glassware and china to make it feel like home and not a clinical environment.
Residents get involved with setting the table and helping the onsite chef to peel vegetables, just like they would at home. They have also been given back choice in their meals, with the introduction of self-service buffet for meal times.
At Ocean Star all three meals are on display in a bain-marie where everyone can speak to the chef and have the choice to select one or more options on offer and importantly be able to go back for seconds. There is also a self-service soup and salad bar that give residents the opportunity to use all of their senses to enjoy the dining experience.
Catholic Homes Catering Manager Carey Bray said; 'The shift from plating all meals to self-serving has been challenging from a catering and staff management perspective. However, we continued to be positive as we implemented the service as the overall wellbeing of our residents far outweighs any of the back of house issues we may face.'
'Residents are enjoying the meals and are giving feedback directly to the Chef, so meals can be modified and menus adapted as a result. It's wonderful to walk into a dining room with a noticeable buzz.'
The other positive outcome that has been reported is that when the care team join residents for a meal they gain insights they wouldn't normally get through the traditional care approach.
Casserole Club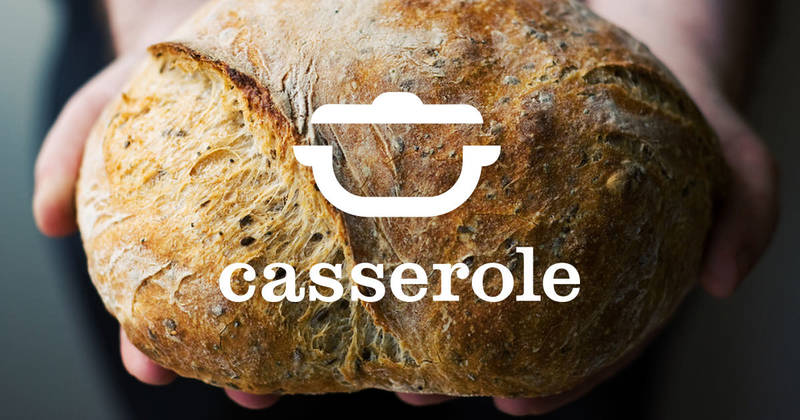 The Casserole Club is a meal-sharing project that connects people who like to cook and are happy to share an extra portion of a home cooked meal, with older neighbours living close by.
Designed and piloted in partnership with four local councils, Casserole Club is a proven, low-cost way to reduce social isolation and improve food provision among older people.
Like a local, community-led meals on wheels project, members serve up meals to their neighbours, getting more people cooking fresh food while strengthening local neighbourhood relationships with every bite.
More than 6,000 people across Britain and Australia have signed up to share meals through Casserole Club. Of the older people receiving meals through the service, 70% of them consider their volunteer cooks to be friends and 80% say they wouldn't have as much social contact as they'd like without services like Casserole Club.
Visit the website to find out how you can get involved!
Roasted Carrot, Turmeric & Coconut Soup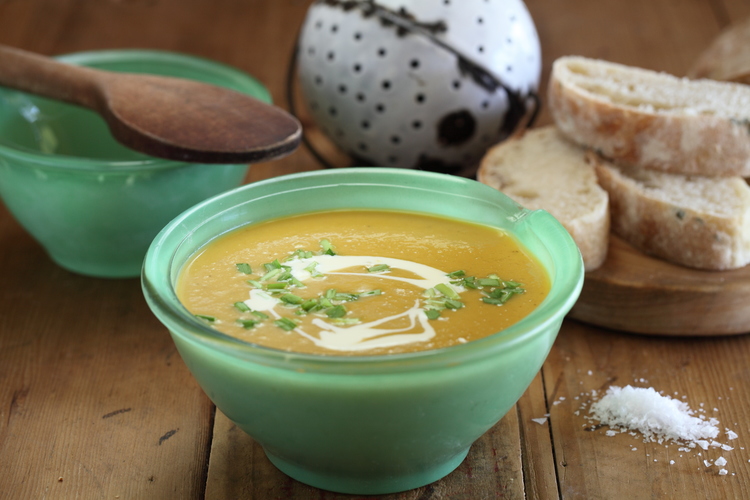 Serves 50
Ingredients
5kg carrots
4kg Queensland blue pumpkin or similar
300g Extra Virgin Olive Oil
Sea salt flakes
Cracked black pepper
250g extra virgin coconut oil
1750g brown onion (diced to roughly 1cm)
10 garlic cloves, roughly chopped
175g fresh ginger, peeled and grated
300g honey
5 teaspoons ras el hanout
5 teaspoons turmeric (ground)
5 tablespoons apple cider vinegar
10L stock
2.5L coconut cream
Extra coconut cream and fresh coriander to serve
Method
Preheat the oven to 220C. Peel and cut the carrots and pumpkin into inch cubes, place into a bowl with extra virgin olive oil and sea salt and evenly spread onto parchment lined trays, place in preheated oven and cook for 30-40 minutes or until golden and soft.
Meanwhile heat a large pot on the stove, add the extra virgin coconut oil and cook the diced onion over medium heat for approximately 10 minutes (no colour). Add the garlic, ginger and honey, cook over a gentle heat for a further 5 minutes.
Add the ras el hanout and turmeric cook for 1 minute or until aromatic. Deglaze with the Verjuice or apple cider vinegar, cook for 2 minutes or until evaporated.
Place the roasted carrots, pumpkin and stock into the pot and bring to the boil. Simmer for 20-30 minutes until thick. Pour in the coconut cream and simmer for a final 5 minutes. Remove from the stove and blend in a high performance blender until silky smooth. Adjust seasoning accordingly.
To serve - divide the soup between the bowls, top with a some extra coconut cream and fresh coriander.
PDF Recipe Card You may need to right-click the link and 'Save target as...' to download this file.
Adriano Zumbo supports the Maggie Beer Foundation
Whilst in Brisbane last month, Maggie made the most of her time, taking the opportunity to team up with Adriano Zumbo for a cooking demonstration at the 'Champions of Change' Event. 'Champions of Change' is a program launched to continue the good work by the chefs and cooks who have attended Maggie's 'Creating An Appetite For Life'  workshops; uniting everyone in a series of events and activities put together especially for the purpose of keeping the impetus of this worthwhile change ignited.
Chefs and cooks attended the education program, along with their management teams and were treated to Maggie's Lentil Tapenade and Roasted Carrot, Turmeric & Coconut Soup, as well as a delicious Banoffe Pie, Apple Tart Tartin and Chocolate Fondant made by Adriano. The Miele Centre provided the ideal location, and Maggie and her team would like to extend a huge thank you to the Miele Brisbane team for hosting such a fantastic event.