News
Adriano Zumbo supports the Maggie Beer Foundation
Whilst in Brisbane last month, Maggie made the most of her time, taking the opportunity to team up with Adriano Zumbo for a cooking demonstration at the 'Champions of Change' Event. 'Champions of Change' is a program launched to continue the good work by the chefs and cooks who have attended Maggie's 'Creating An Appetite For Life'  workshops; uniting everyone in a series of events and activities put together especially for the purpose of keeping the impetus of this worthwhile change ignited.
Chefs and cooks attended the education program, along with their management teams and were treated to Maggie's Lentil Tapenade and Roasted Carrot, Turmeric & Coconut Soup, as well as a delicious Banoffe Pie, Apple Tart Tartin and Chocolate Fondant made by Adriano. The Miele Centre provided the ideal location, and Maggie and her team would like to extend a huge thank you to the Miele Brisbane team for hosting such a fantastic event.
It's pizza making time!
Making pizza may be a simple process for many people, but for the residents of leading NSW aged care provider, SummitCare, it is a meaningful activity that is fostering connections and enhancing their wellbeing. SummitCare created a short video at its Smithfield centre to demonstrate why the activity of gathering residents and their families together to make pizza is so popular and beneficial.
In the video, Carla Beheram, SummitCare Manager – Special Projects, said joining any of the many activities on offer was a personal choice for residents, but pizza making always attracted a group of participants, "There are many benefits with an activity like pizza making," she said. 
"Obviously, the residents get to smell and taste the food that they prepared. From a physical perspective, residents can improve their manual dexterity – they can roll the dough, they can knead the dough, placing toppings on the pizza. 
From a social perspective, residents get to socialise with other residents and also we encourage as much as we can families to come and participate in the activity because that again helps the residents to connect with their community prior to coming to SummitCare."
Stars of the film include Gwennyth Jolliff, a 94-year-old resident who is fond of ham and pineapple pizza and looking forward to cooking with her good friend Alan; and Antoinetta, the wife of a resident who came to Australia from Italy as a girl, and has fond recollections of making pizza at her childhood home, memories she was able to share during the activity.
SummitCare will continue to film more of its activities to use as a staff training tool, a snapshot for new families and for general viewing.
For more information on SummitCare visit http://www.summitcare.com.au/
Melbourne Education Program - Applications NOW OPEN!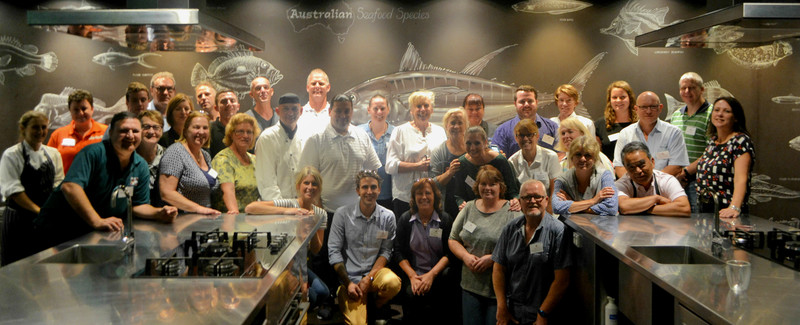 A tried and true success in Maggie's hometown of the Barossa Valley, and then again in Sydney, 'Creating An Appetite For Life' is a program Maggie would love every chef and cook working in aged care to have access to, which is why we are excited to let you know that the next stop for this pioneering event is Melbourne.
If you are a chef or cook in aged care and are looking for the kind of inspiration needed to create positive and tangible change in your workplace kitchen, join Maggie and a team of experts to be amongst like-minded innovators for 2 days of jam-packed information, discussion and hands on experience.
As Maggie explains, "It would come as no surprise that I loved food all my life; it's my joy, and sometimes my heartache, but we can fix that, and together, we can improve the health, happiness and quality of life of every older Australian."
Experience cooking demonstrations with celebrity guest chefs, engage in lively conversation with aged care dietitians and food safety experts, as well as share in the wisdom of guest speakers, including HammondCare's Executive Chef Peter Morgan-Jones and more...
Only 30 participants will have the chance to attend, making this a completely unique opportunity not to be missed for anyone committed to making a difference in aged care kitchens and homes. 
Date
Monday 26th and Tuesday 27th September 2016, with a welcome evening on Sunday 25th September.
Location
William Angliss Institute, Melbourne.
Cost
$1,950 + GST Price includes 2 nights' accommodation, meals and two day program. Price is exclusive of flights for interstate participants. 
Maggie Beer Foundation will also be offering a limited number of fully funded scholarship positions to the program. Information on scholarships are available within the application form. 
Apply
Applications are now open until 5pm EST Monday 8th August, 2016. Successful applicants will be notified by Thursday 25th August, 2016.
Click here to view the application prior to submission . You may need to right-click the link and 'Save target as...' to download this file.
"It's all about the food, not the fork!"
Maggie was very proud to launch the new HammondCare recipe book at the International Dementia Conference last week.
"It's all about the food, not the fork" is a recipe book for older people full of food you can eat in smaller bites.
As Maggie says, "there are so many people who are working to improve food in aged care and we know that's it's a complex issue, especially for those with dementia and other conditions who may struggle with cutlery or feel daunted by three large meals a day. So, this book truly is all about the food not the fork!
Great easy recipes for smaller meals that can be eaten with fingers, but still packed with energy and nutrition. The recipes range from the very simple through to the slightly more challenging. The goal is to ensure that those in aged care who prefer or require finger food, over larger meals, are catered for, and that those cooking at home enjoy creating great snacks and small meals" - Maggie.
You can purchase a copy of the new cookbook on the HammondCare website.
Lifeview's Food Appreciation Program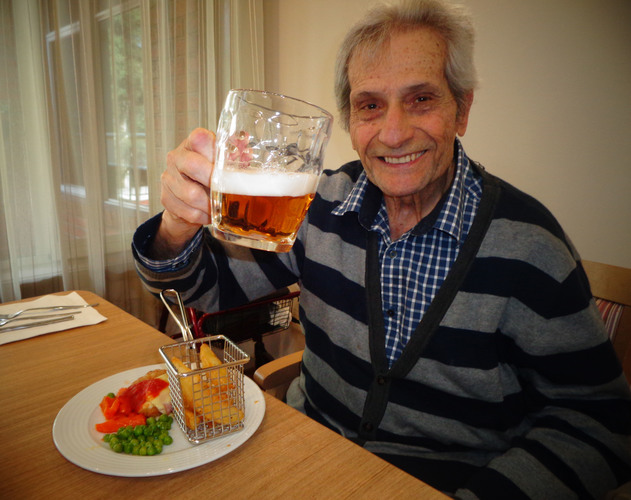 Food, its quality, variety and nutritional value, in aged care is a constant source of opinion and feedback.
By creating a Food Appreciation Program, which covers resident involvement in menu design, food preparation, special events, cultural awareness and day-to-day food service, Lifeview has seen increased satisfaction in this highly important and emotional area.
The main goal of the Food Appreciation Program is to give independence and choice back to the resident - why upon entering aged care should you no longer have a say in what your meal selections are, and who is to really say what is good for you?
Residents own the menu process, know their feedback is appreciated and heard, work with chefs to have favourite recipes added to the menu, can choose to be hands on in the preparation of special meals, and know they have more choice on a daily basis should they not feel up to that day's menu.
Residents also have a say in what time they have their breakfast - with the introduction of a continental buffet, late or early risers can continue with their habits, making for a much more relaxed morning routine in each home.
It is important to recognise that resident designed menus however do not lead to a lack of nutrition – all meals selected on the menu are still approved by dietitians and meet all standards. In fact many previously under-nourished residents have flourished after admission, through this approach.
It is a program not only about food, it is a program about choice and respect, on which strong relationships are built.
Since the inception of the program four years ago resident satisfaction in catering has improved from 77% to 92% and signs are this figure will go higher in the coming months due to further innovations.
There is also increased satisfaction in the area of cultural diversity as new food related activities such as tomato bottling and special themed events such as cultural days are introduced. Non-Anglo dishes also feature more regularly on menus along with experience lunches such as Parma and Pot, Roast and Red Wine and Chicken and Champagne.
Supplement use has decreased, as has overall food wastage. Residents are maintaining a healthy weight as appetites are peaked and consumption of meals is up.
Well done Lifeview for putting decisions back in the hands of residents!