News
Tasting Australia Fundraising Lunch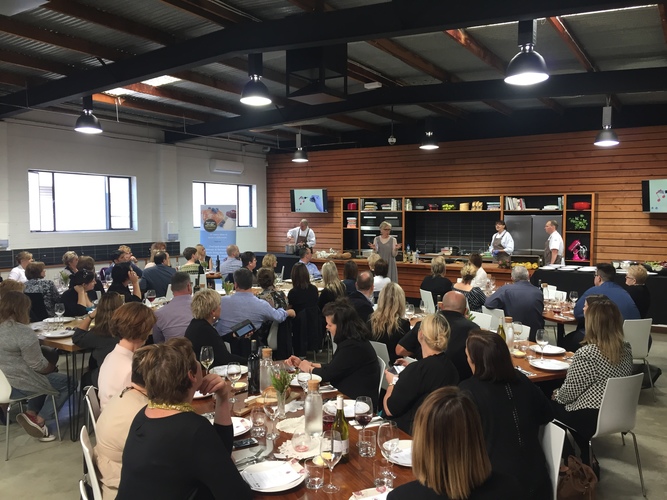 Maggie was thrilled to be able to take part in Tasting Australia, wearing her Foundation hat, again this year. As one of Maggie's all-time favourite food experiences, Tasting Australia offered the perfect platform to share "Improving With Age", a fundraising lunch at Sprout Cooking School in Adelaide, on Thursday 4 May, 2017.
A healthy mix of 70 MBF supporters, aged care providers and Tasting Australia devotees enjoyed 3 courses especially created for the event by HammondCare's Peter Morgan-Jones, and assisted by chefs Maria and Peter from Lifecare Aged Care.
The lunch kicked off with canapés by Peter Morgan Jones from his cookbook, 'It's all about the food, not the fork', followed by Maggie's Slow Cooked Lamb Shoulder with Preserved Lemons, and Parsnip Puree with Fresh Pear and Bitter Greens, as the main course.
Wine was generously provided by Langmeil Winery in the Barossa, and Maggie's Roasted Quince with Baked Vanilla Bean Crème Anglaise wrapped up the edible part of the day before a cooking demonstration with Peter Morgan Jones began the information sharing component of the event.
Peter's demonstration was followed by a Sensory dining experience presentation by Annet Hoek, a Virtual Dementia Experience by Christine Bolt from Alzheimers Australia, and a wonderful Vegepod garden set up by Tara Grahame Cochrane.
Maggie's intention with this event was to show not only what can be cooked for those in aged care, but what is possible in aged care overall. With a heartfelt thanks to all involved, Maggie was so happy to achieve her goal of sharing further information on creating an appetite for life.
Chicken Schnitzel with Potato Salad and Avocado & Tomato Salsa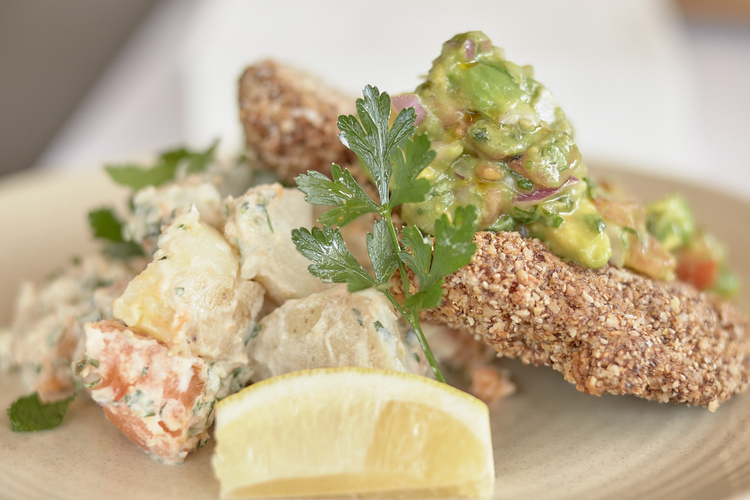 The ever popular schnitzel gets a whole food update with the additions of spelt flour, chia seeds and rolled oats.
Makes 40 schnitzels
Schnitzel ingredients
40 chicken thigh fillets, skin on, flattened
6 eggs combined with 600ml milk
600g spelt flour, seasoned with salt and pepper
600g rolled oats
150g white chia seeds
300g LSA
Olive oil to pan fry
Method
Batter the chicken thighs until 1cm thick.
Combine the egg and milk in a bowl, whisk until combined. Place into a deep sided tray. Place the spelt flour in a deep sided tray, season with salt and pepper.
In a blender combine the oats, chia seeds and LSA, blend until smooth and fine. Place into a deep sided tray. Firstly, coat each chicken thigh in flour, tap off excess. Then dip into the egg milk mix- coat the whole thigh, tap off excess. Lastly evenly coat in the oat mix.
Heat a fry pan on the stove and pan fry over medium heat until golden on both sides and cooked through.
Potato Salad ingredients
3kg potatoes with skin on suitable for boiling
2kg sweet potato
400g Greek yoghurt
250g homemade mayonnaise or real egg mayonnaise
50g capers- drained & chopped
50g seeded mustard
50g flat leaf parsley chopped
25g fresh mint chopped
Fresh black pepper
Method
Place the whole potatoes in cold salted water and bring to the boil, after 10 minutes add 4cm chunks of peeled sweet potato and simmer for 20 minutes or until just cooked. Allow to cool in the water.
Meanwhile mix the yoghurt, mayonaise, capers, mustard and herbs.
Once the potato is cool, drain and pat dry, cut into 3cm chunks and gently mix. Taste to check seasoning.
Avocado & Tomato Salsa ingredients
300g red onion, finely diced 2mm
720g hass avocado flesh, 1cm dice
160ml lemon juice, freshly squeezed
960g fresh tomatoes, 1-2cm dice
120ml Extra Virgin Olive Oil
Sea salt flakes and freshly ground black pepper
40g fresh basil, finely chopped
Method
Combine all ingredients in a bowl and gently mix.
To serve complete dish
Place a generous spoon of potato salad on the plate, top with schnitzel and finish with the salsa and a drizzle of EVOO if desired.
PDF Recipe Card You may need to right-click the link and 'Save target as...' to download this file.
Valuing independence and nurturing relationships through Mercy Health's model of care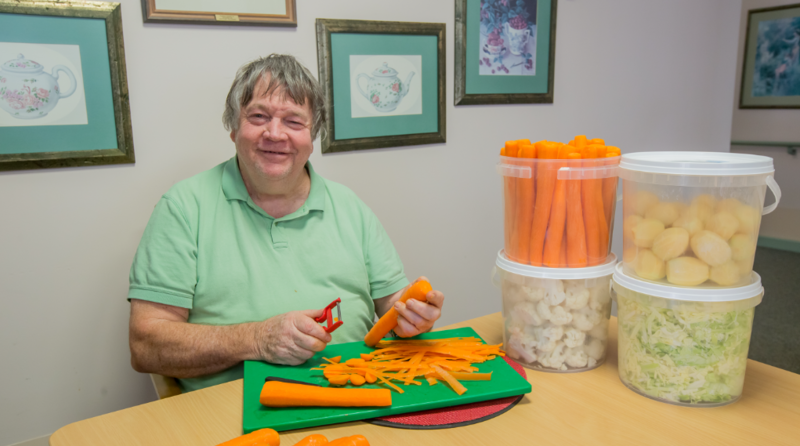 Mercy Health's model of care has been thoroughly researched and carefully designed to empower its residents to have the best day possible, every day.
Mercy Health, a national provider of health, aged and home and community care, is bringing its model of care to life with small community households. The aim is for residents to receive friendly and personalised care within small households supported by dedicated multi-skilled Care Companions.
Chief Executive Aged & Community Care Kevin Mercer said the small community households concept recognises that every person has individual preferences and abilities. "Small community households encourage residents, their families and staff to work together to choose and enjoy meaningful daily activities, both within the home and outside it," Mr Mercer said. "For example, if you have always loved cooking, you can help prepare the meals, serve the food and continue gardening —whatever brings purpose to your day."
The Care Companions have all received food preparation training and cook a diverse range of home style meals for their household. Residents sit down with their Care Companion each week to help select the following week's menu and assist with cooking the meals if they want to.
"This model gives residents the freedom to access a domestic kitchen at any time of the day and more choice when it comes to meal selection," Mr Mercer explained. "As a result, residents are reporting increased satisfaction with their meals."
The small community household model has been rolled out across two Mercy Health homes in Western Australia with residents experiencing fewer falls, significant weight gain and a reduction in the need for oral supplements. Construction has also started on Mercy Place Ballarat in regional Victoria, which will be the first Mercy Health home to be purpose built around small community households.
You can view a Mercy Health small community household in action by visiting: www.mercyhealth.com.au/rac/Pages/HouseholdLiving.aspx
"Improving With Age" Fundraising Lunch at Tasting Australia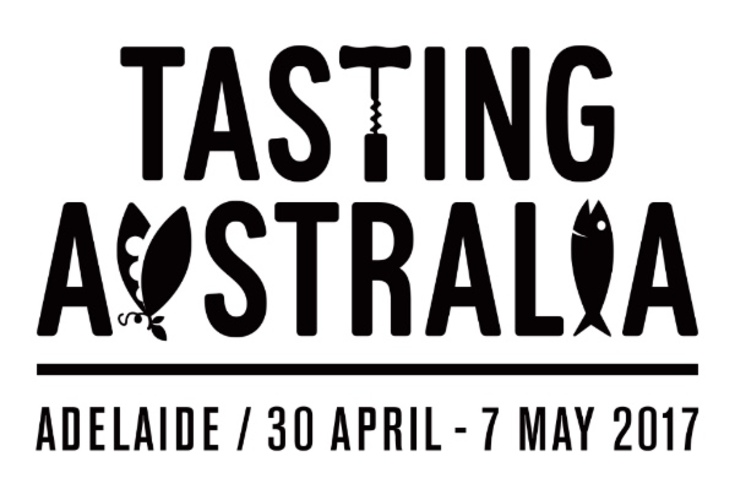 As one of Maggie's all-time favourite food experiences, Tasting Australia is a natural event choice to shine the light on her Foundation's next undertaking - "Improving With Age", a fundraising lunch at Sprout Cooking School in Adelaide, on Thursday 4 May, 2017.
Along with HammondCare's Peter Morgan-Jones, a handpicked group of talented local aged care chefs will join Maggie to highlight the potential available within aged care kitchens when fresh thinking is brought to the table.
As Maggie explains, "I hope that by bringing together the cooking of laterally thinking aged care chefs, and allowing our lunch guests the chance to really experience how easily delicious food can find its place amongst the realms of dietary modifications and budgets, it may be possible for us to change the status quo in aged care and to spread the knowledge of what good food can do for the elderly."
Maintaining Maggie's long held philosophies around food, the chefs joining her will work with fresh, seasonal and local produce to ensure that guests are treated to a full-flavoured two course lunch menu. This may be the last lunch guests would expect to find in an aged care home, but with good food as her champion always, it's the very first priority Maggie would like to see given to residents everywhere.
All proceeds will benefit the Maggie Beer Foundation's continued good work. Spots are very limited and MBF are offering 10% off tickets for Foundation supporters by using the code MBFLTA via the ticket link below.
Improving With Age Fundraising Lunch
Date
Thursday 4 May 2017
Time
12pm - 3pm
Venue
Sprout Cooking School, 89 Sir Donald Bradman Dr, Hilton, South Australia
Price
$95 - includes 2 courses + wine (use code MBFLTA for 10% off)
DOWNLOAD INVITE FLYER You may need to right-click the link and 'Save target as...' to download this file.
The Eden Alternative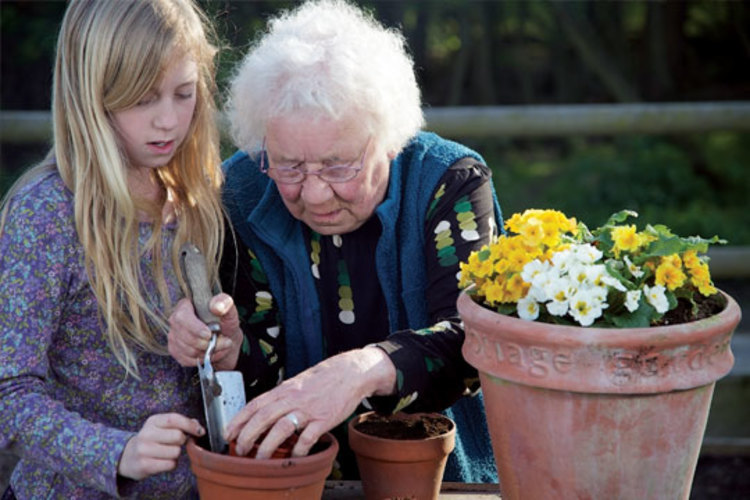 During the last 10 days, the Maggie Beer Foundation team ran a series of workshops for chefs and cooks working in aged care in Northern NSW; as well as their managers and CEOs. These workshops were filled with round table discussions and one initiative which was mentioned several times was the Eden Alternative; a philosophy around transforming care environments into habitats for human beings that promote quality of life for all.
The Eden Alternative is a philosophy of person-directed care that focuses upon empowering residents, clients, staff, families, volunteers and other stakeholders to provide a better life for residents and clients. The Eden Alternative is a powerful tool for inspiring well-being for Elders, residents or clients and those who collaborate with them as Care partners.
There are Ten (10) Eden Principles associated with the Eden Alternative. These 10 Eden Principles are the foundation for fundamental culture change for individuals, communities and organisations. The aim is to shift from an institutional / medical model of care, to one that is more about the person. By embedding the 10 Principles into an organisation or home's environment you will begin to eliminate the three plagues of loneliness, helplessness and boredom.
Loneliness is a reason why many people give up the will to live. This can happen in the community, in your own home or in an aged care home.
Secondly, many of the practices we have in aged care rob people of the opportunities to provide care, creating a sense of helplessness, and our sense of purpose fades along with the reason for living.
Thirdly, although we provide programs and activities that many elders have not previously partaken in, there is a sense of sameness or lack of control that often leads to boredom in the lives of those we care for. Meaningless activity destroys the human spirit.
The Eden philosophy recognises that loneliness, helplessness and boredom are the real killers of older age, not physical ailments. The philosophy promotes a holistic approach to maintaining the wellbeing of elders, promoting participation in a healthy community and improving spiritual and emotional wellbeing.
Find out more about how you can implement the Eden Alternative here