News
Apple & Oatmeal Cake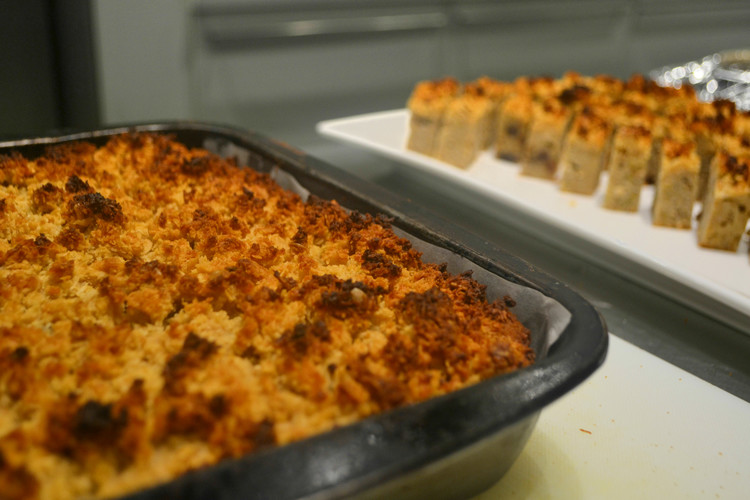 This cake makes a lovely dessert served warm and topped with custard. Alternatively it is a perfect addition to a cup of tea!
Makes 80 portions
Ingredients
200g oats
625ml boiling water
230g butter
100g brown sugar
120g castor sugar
4 eggs
2 teaspoons vanilla bean paste (optional)
300g wholemeal self raising flour
160g self raising flour
4g ground cinnamon
4g ground nutmeg
4 Granny Smith apples (460g flesh grated)
200g sultanas
60ml extra virgin olive oil
200g toasted almonds, very finely chopped
Topping
100g butter *250ml milk
55g skim milk powder
135g brown sugar
75g oats
150g finely ground almonds
120g desiccated coconut
Method
Preheat the oven to 180C, grease and line a gastro tray with parchment (530mm length x325mm width x 100m depth).
Place your oats in a bowl and cover with boiling water, then set aside.
Cream your butter and sugar in the Kitchenaid or mixer, until light and pale. Beat in your eggs and vanilla, adding one egg at a time.
In a separate bowl combine the flour, cinnamon and nutmeg. In another bowl mix the sultanas, olive oil and chopped nuts.
Add the oats to the egg & butter mix. Fold in the flour, sultanas, olive oil and nuts and stir to combine. Pour into the prepared tin.
Now for the topping. Place the butter in a medium sized pan to melt. Add the milk and brown sugar, dissolve and bring to the boil.
Remove from the heat and mix in the oats, nuts and coconut. Crumble over the top of the raw cake and press in slightly.
Place the cake into the preheated oven and bake for 35-45 minutes or until golden and cooked through. Remove from the oven and set aside to cool.
PDF Recipe Card You may need to right-click the link and 'Save target as...' to download this file.
Synovum Care - 'Your Life, Your Way'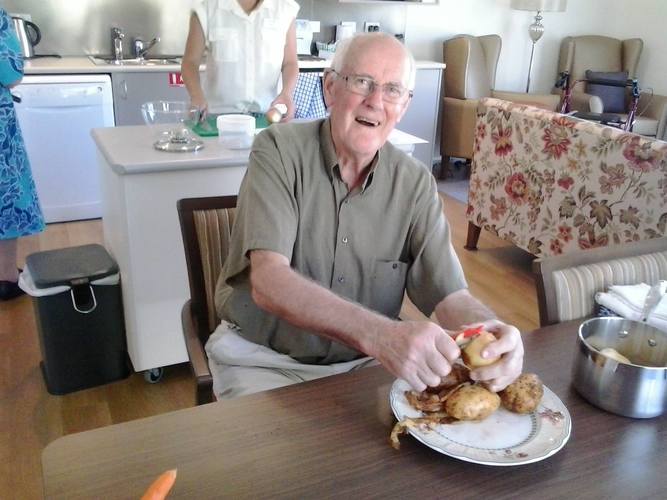 Synovum Care Group at Wynyard Care Centre is located on the North West coast of Tasmania.
Synovum Care's new vision 'Your life. Your Way' – saw the company open two small scale living houses at the end of 2014. The team aim to provide residents with as normal a life as possible, 'just like when they were able to live in their own homes', while still having the security of being in a 24/7 high care service. Each house comprises of seven bedrooms with ensuite, laundry and dining and lounge room; and then they have their own kitchen; which of course like any house, is the heart of the home.
In each house the team provide freshly cooked meals, often with the residents' assistance, in the resident's kitchen. Each week they compile their own menus with input from the residents, they do all their own ordering and shopping and everything is cooked with beautiful fresh Tasmanian ingredients. They operate just like any 'normal family household' and because they have their own kitchen, the residents can see, or assist with, their groceries being unpacked, can see and smell their meals being cooked and watch the meals being served up. Sometimes residents sit and read cookbooks and give the staff suggestions and even conduct taste-testing the meals. No matter their diagnosis, residents still have valuable input in making choices in regards to their meals.
Well done to the Synovum Care team for bringing back independence, choice and responsibility to the residents in their care.
Nambucca Valley Community Garden Project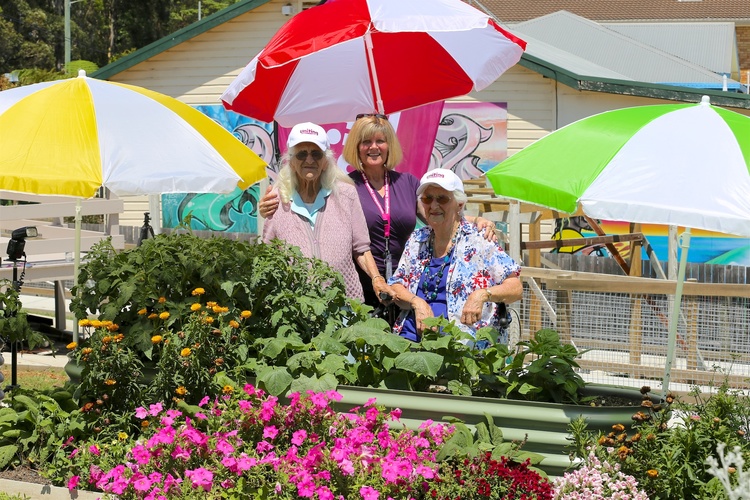 A community garden project, which has brought together seniors in the Nambucca Valley has won a prestigious aged care industry award.
Staff at Uniting's Mid-North Coast Community Care Service have coordinated the Growing Together: Community Garden project, involving a number of groups to develop a community garden at Nambucca Heads. The project has been a hit in the local community – including seniors involved with the Uniting Community Care Service.
It's success has been recognised nationally after it received an Australian Aged Care Quality Agency Better Practice Award earlier recently. These awards promote and acknowledge outstanding aged care practices. Uniting Community Development Manager, Romayne Page said the Growing Together community garden is for anyone young or old. Anyone, no matter their age can have a green thumb, and has brought people together.
"It is an engaging, magical space for everyone – for the primary school children, seniors and people living with dementia. Some people enjoy simply spending time in the garden, being with nature and feeling the wind on their faces. Others enjoy getting their hands dirty and being a little more active in the garden," Ms Page said.
The Growing Together community garden is the talk of the town and is bringing people together. One local resident, Ruth Forbes, said: "I love gardening; I always had a lovely garden. It is so nice to be able to come here to the community garden and have the opportunity to do gardening again. I am looking forward to visiting the garden regularly with the Healthy Living for Seniors group."
After working in the garden recently, Gwen Latham said: "I enjoyed the day and especially the young folks from Bunnings helping us. I have gardened every day of my life; it is good exercise."
The garden, which is right in the centre of Nambucca Heads, is a reminder of how fun and enjoyment we have spending time together.
Uniting, a not-for-profit community service provider, received six of the 14 awards handed out to NSW and ACT aged care providers at the Better Practice Awards.
Maggie Beer Foundation at Tasting Australia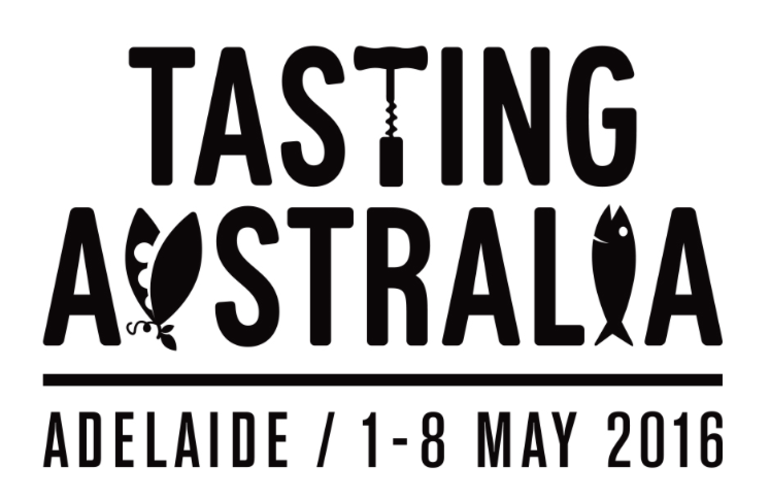 As a supporter of the Maggie Beer Foundation, we would like to invite you to join Maggie at her upcoming event with Tasting Australia at the Adelaide Town Square on Wednesday 4th May 2016, for the 'Food in Aged Care' Think Session.
Driven by Maggie's passion to change the food experience for older Australians, this event will bring those working in the aged care industry, residents and families together to answer everyone's questions on how to improve nutritional standards, reignite the enjoyment of eating with independence and choice and return fresh, local and seasonal produce to aged care tables.
When & Where?
Wednesday 4th May. 2016, 11am - 3:30pm @ Tasting Australia Town Square (located at the northern half of Victoria Square, Adelaide)
What's on for the day?
11:15 - 12:15 - Panel Discussion
Facilitated by Gabrielle Kelly, panel members Maggie Beer, Simon Bryant, Professor Liz Isenring, Ngaire Hobbins, Ellis Wilkinson, Peter Morgan-Jones & Professor Ralph Martins will discuss current food challenges, trends and successes in aged care.
12:30 - 1pm - Intergenerational Choir
1:15 - 2:15pm - 'Playing Favourites' Cooking Demo
Maggie & the Nonnas from PISA Italian Meals & Services go head to head in a cooking challenge!
2:30 - 3:15pm - 'It's All About The Food, Not The Fork' Cooking Demo
HammondCare Executive Chef and Food Ambassador Peter Morgan-Jones & 2014 Tasting Australia 'Every Dollar Counts' winner Katie Otto demonstrate suitable dishes for those with dementia.
With so much on offer, and everyone welcome, the very best news is that the event is free for all to attend - so please mark Wednesday 4th May in your diary and we look forward to seeing you there!
Download your official invite here You may need to right-click the link and 'Save target as...' to download this file.
Flinders University 'Creating An Appetite For Life' Evaluation Report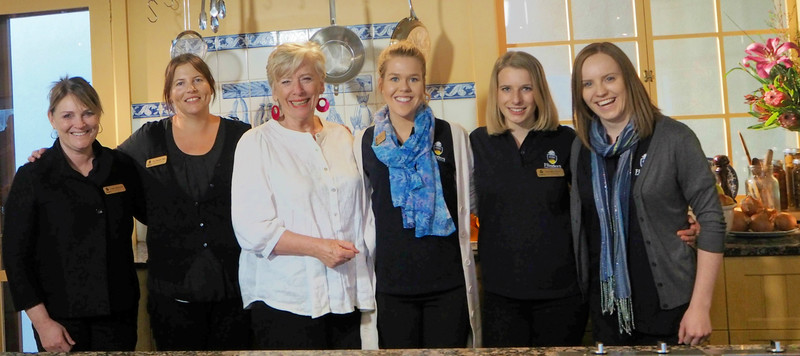 During the Education Program in June last year, the dedicated Nutrition & Dietetics team at Flinders University spent many, many hours conversing with the 30 chefs and cooks who took part in the Program; discussing their roles, challenges, successes and their views on the experience with Maggie.
The result? A very thorough research report, which you now have access to!
Flinders University 'Creating An Appetite For Life' Evaluation Report You may need to right-click the link and 'Save target as...' to download this file.