News
Snail Farming charity supporting people with Alzheimer's disease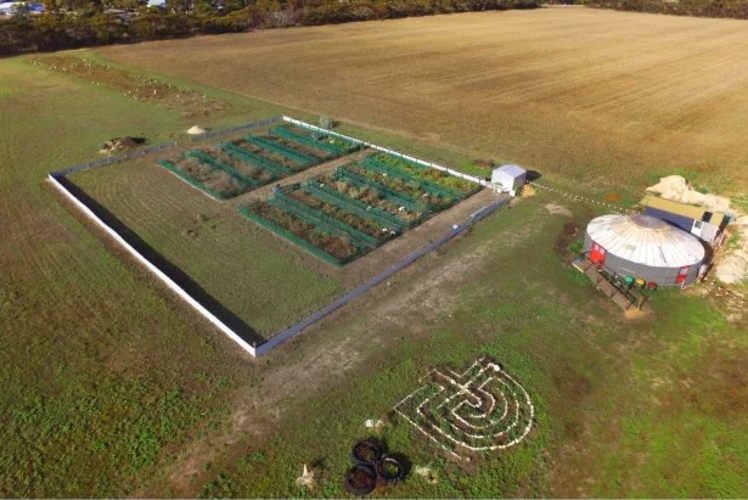 Careship is a non-profit organisation that aims to establish a (residential) care farm for people living with dementia in Australia. Care farming is the provision of social care in a meaningful work setting such as a small scale farm - in Coorong's case - a snail farm. It is a popular concept in Europe and the United States but this is the first program of its kind in Australia.
At Careship, people living with dementia help with the breeding, feeding and harvesting of the snails.
"They also have the opportunity to help with a flower garden, vegetable gardening or just sit around and have a bit of a chat," said the farm's co-ordinator, Claudia Ait-Touati.
"They're able to get more self-esteem because the focus is on their abilities and not on the disabilities."
Ms Ait-Touati first came across the care farm concept in The Netherlands when her father was diagnosed with dementia.
"After the diagnosis of Alzheimer's he sat in his room, wouldn't go outside, got quite depressed and when he started going to the care farm he made new friends, he felt valued again," she said.
"The success and the benefits that it had to my father made us realise that is what we needed and wanted here in Australia as well."
While only in its initial stages, the care farm will grow and expand so that people impacted by dementia are able to assist with various other tasks on the farm, giving them a sense of purpose and value.
Orange Cheesecake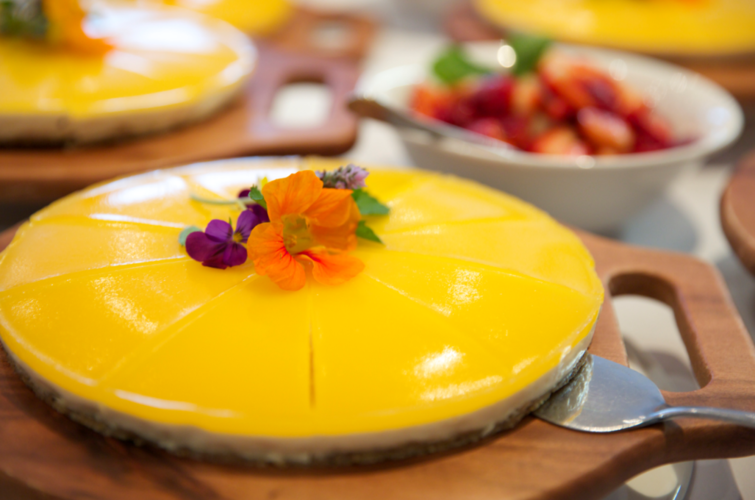 Ingredients
Base
¼ cup hazelnuts
1 cup almonds
4 Medjool dates
¼ cup unsalted butter
¼ teaspoon sea salt flakes
Filling
3 gold gelatin leaves
50ml lemon juice
40g raw honey
30ml orange juice
250g thick full fat Greek yoghurt
200g evaporated milk
1 tablespoon orange zest
Jelly
2 leaves gold gelatine
200ml orange juice
Method
Preheat the oven to 180C. Place the nuts on an oven tray and bake for 8-12 minutes until golden, remove from the oven and set aside to cool.
Heat the butter for the cheesecake base in a small saucepan until nut brown, set aside.
Grease and line with parchment a 20cm spring from cake tin. In a food processor, blend the nuts until fine, add the dates and blend until fine. Add the butter and salt and press into the base of the lined mold. Refrigerate.
Filling: Soak the gelatin leaves in cold water. In a small pot place the honey, lemon juice and orange juice, bring to the boil, remove from the heat and add the squeezed out gelatin. Stir to dissolve and set aside to cool slightly.
Place the yoghurt, evaporated milk and zest into a bowl. Add the gelatin mix, whisk to combine and pour onto the base. Set in the fridge for 4 hours or until set.
Jelly: Soak the gelatin leaves in cold water. Heat half the orange juice in a saucepan, add the squeezed out gelatin leaves and stir until dissolved. Add the remaining orange juice. Pass through a sieve and pour over cheesecake, allow to set in the fridge.
To serve: Remove the cheesecake from the tin, along with the paper. Place onto a board and cut 10 portions using a hot clean knife.
Serve with seasonal fruits.
PDF Recipe Card You may need to right-click the link and 'Save target as...' to download this file.
Workshop opens for CEOs and Managers in aged care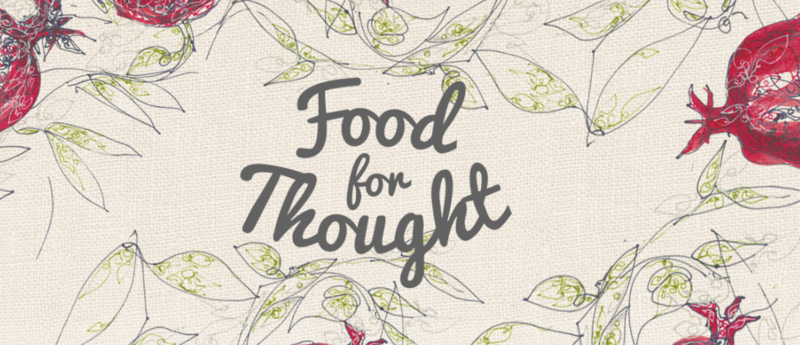 Knowing that a meal cooked with care is one of the very best ways of nurturing wellbeing, the Maggie Beer Foundation was established to Create An Appetite For Life, regardless of age or health restrictions. And the best way Maggie knows to effect the change she champions is to go to the source of the decision-making process; the CEOs of aged care homes.
In order to effect change in a way that is greater than the sum of its parts, the Maggie Beer Foundation is once again offering the proven success of a specialised workshop for CEOs and managers, Food For Thought, Wednesday 23 August in Adelaide.
Following on from the Creating An Appetite for Life Education Program, dedicated to cooks and chefs, Maggie's focus will shift from those creating the food for change, to those in decision making roles to best stream line ideas into action. Food For Thought is a workshop dedicated to opening a dialogue with CEO's, troubleshooting the issues that may be hampering full flavoured, highly nutritious food being enjoyed in aged care homes across Australia.
Food For Thought will offer CEOs the chance to network with others in management roles, hear from food-focused aged care providers and guest speakers, take part in lively discussions and find out more about the work Maggie Beer Foundation is doing and how best it may aid the decision-making in aged care homes Australia-wide. CEOs and managers who attend will also try their hand in the kitchen with Maggie for the infamous Maggie Beer Foundation Mystery Box Challenge!
As Maggie explains, "For those in aged care not fortunate enough to have leadership that understands the importance, and the difference, that good food and the way it is delivered can make, I believe by working closely with those who wish to embrace the principals of the joy that food can bring, we can create this change with a movement that I hope will encourage all to follow."
To take part in Food For Thought and keep this important conversation going, please book your spot sooner, rather than later, as numbers are limited to only 40.
Location
Sprout Cooking School, 89 Sir Donald Bradman Drive, Hilton, South Australia 5033
Date
Wednesday 23 August, 2017
Time
8:15am – 4:30pm
Cost
$1,150.59 (includes GST and all fees)
'Creating An Appetite For Life' returns to the Barossa Valley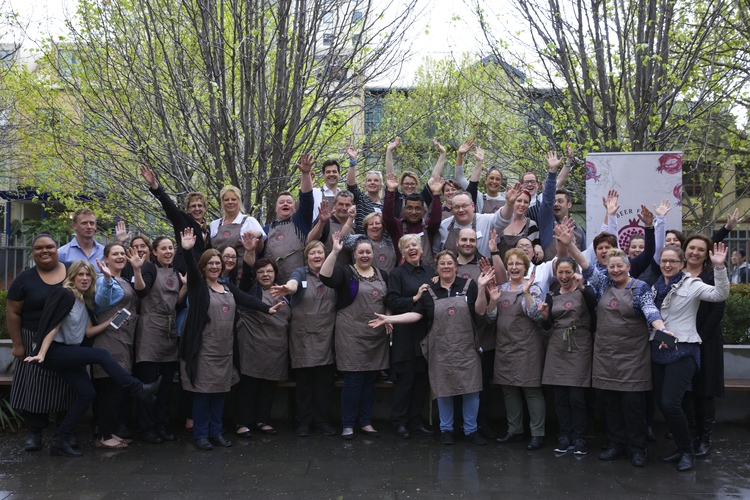 The Maggie Beer Foundation's pioneering program, Creating An Appetite for Life, returns to where it all began, on Maggie's home ground in the beautiful Barossa Valley, Sunday 20 - Tuesday 22 August, 2017.
Once again, the Maggie Beer Foundation is sending out an invitation to passionate aged care cooks and chefs to engage in an Education Program that has proven the strength of its impact with participants around the country, as Maggie explains, "It would come as no surprise that I loved food all my life; it's my joy, and sometimes my heartache, but we can fix that, and together, we can improve the health, happiness and quality of life of every older Australian."
Because Maggie has limited the program to only 30 cooks and chefs, this is very much a hands on experience for everyone taking part; a chance to ask as many questions as you have pop into your head, trouble-shoot the stumbling blocks of cooking in aged care homes, put some fresh thinking around nutritious ingredients, food budgeting, supplier relationships, aged care specific recipes, menus and dining room management.
As always, Maggie has pulled together her A-Team to ensure important ground is covered in a most delicious manner. Amongst the leading experts joining Maggie for the presentations, will be Peter Morgan-Jones, well known to many in his role as HammondCare's Executive Chef. Peter will be discussing texture modified foods and cooking for those with dementia, along with information from specialised aged care dieticians and food safety experts.
All work and no play is far from Maggie's ideal learning environment, so in true Barossa style, she has organised a beautiful home cooked dinner for the night participants arrive in the Valley. That might just be reason alone to make sure you're on the list!
Please note that tickets are based on a 'first in best fed' policy, and are only for those who fulfil the criteria of a chef or cook in aged care, Australia-wide.
Maggie Beer Foundation is particularly excited to announce a generous offer of 10 fully paid scholarships supported by the IOOF Foundation – if you would like to apply for one of these beneficent placements please fill out the Scholarship Application Form here.
CEO and managers in aged care will also be invited to attend a special workshop on Wednesday 23 August in Adelaide. Details will be published on the website in the coming weeks.
Event details
When: Sunday 20 (welcome evening), Monday 21 and Tuesday 22 August, 2017.
Guests will be required to meet at the meeting point in Adelaide at 4:30pm sharp on Sunday 20 August. The coach will transfer all guests to the Barossa.
Where: Barossa Valley, South Australia. The Program will take place at Nuriootpa High School but guests will visit several different locations in the Barossa.
Price: $2,530.00 (includes all fees and GST)
Includes accommodation in the Barossa on Sunday and Monday night, Barossa on-ground transfers, all meals and the Education Program.
Ticket sales open: June 2nd, 2017
Ticket sales close: July 20th, 2017
Successful applicants of the scholarship positions will be notified by 10 July, 2017.
Maggie's New Cookbook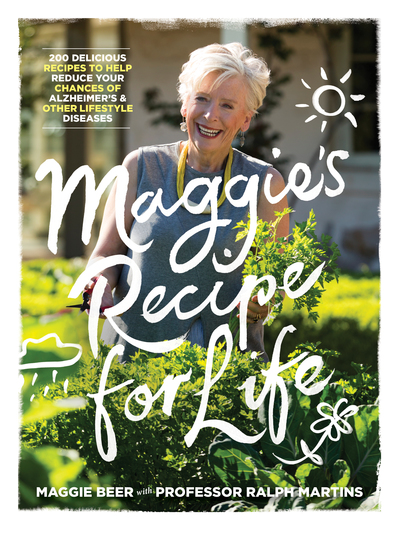 For those wondering whether Maggie's new cookbook would involve the subject closest to her heart, the answer is a resounding yes! And Maggie couldn't be happier about it, as she explains, "This is such an important book for me and something I'm so very excited about, which is why I'm thrilled to reveal the cover for 'Maggie's Recipe for Life', my new book co-written with Professor Ralph Martins."
Published in October 2017 by Simon & Schuster Australia, 'Maggie's Recipe for Life' includes 200 delicious recipes to reduce your chances of Alzheimer's and other lifestyle diseases. The book's proceeds will be shared between the Maggie Beer Foundation and the Lions Alzheimer's Foundation.