News
Lifeview's Food Appreciation Program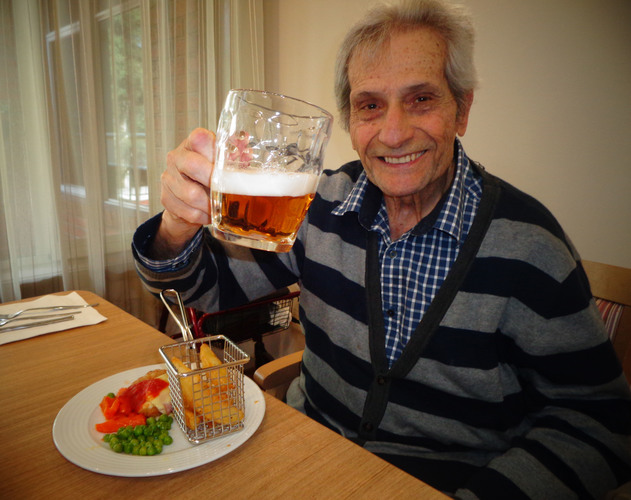 Food, its quality, variety and nutritional value, in aged care is a constant source of opinion and feedback.
By creating a Food Appreciation Program, which covers resident involvement in menu design, food preparation, special events, cultural awareness and day-to-day food service, Lifeview has seen increased satisfaction in this highly important and emotional area.
The main goal of the Food Appreciation Program is to give independence and choice back to the resident - why upon entering aged care should you no longer have a say in what your meal selections are, and who is to really say what is good for you?
Residents own the menu process, know their feedback is appreciated and heard, work with chefs to have favourite recipes added to the menu, can choose to be hands on in the preparation of special meals, and know they have more choice on a daily basis should they not feel up to that day's menu.
Residents also have a say in what time they have their breakfast - with the introduction of a continental buffet, late or early risers can continue with their habits, making for a much more relaxed morning routine in each home.
It is important to recognise that resident designed menus however do not lead to a lack of nutrition – all meals selected on the menu are still approved by dietitians and meet all standards. In fact many previously under-nourished residents have flourished after admission, through this approach.
It is a program not only about food, it is a program about choice and respect, on which strong relationships are built.
Since the inception of the program four years ago resident satisfaction in catering has improved from 77% to 92% and signs are this figure will go higher in the coming months due to further innovations.
There is also increased satisfaction in the area of cultural diversity as new food related activities such as tomato bottling and special themed events such as cultural days are introduced. Non-Anglo dishes also feature more regularly on menus along with experience lunches such as Parma and Pot, Roast and Red Wine and Chicken and Champagne.
Supplement use has decreased, as has overall food wastage. Residents are maintaining a healthy weight as appetites are peaked and consumption of meals is up.
Well done Lifeview for putting decisions back in the hands of residents!
Hearty Bean Soup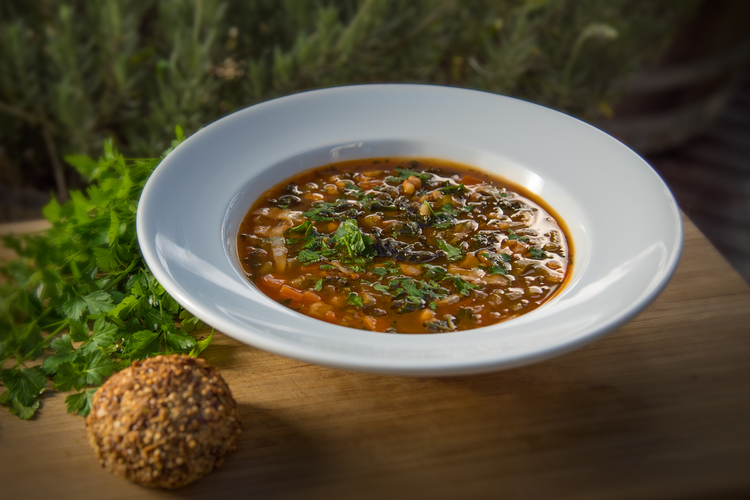 When the temperature drops, there is nothing better than a big bowlful of piping hot soup. We all have our own version of minestrone soup and this is Maggie's absolute favourite; and it's especially beneficial for our elders due to the easily digested, high protein beans that are present. 
Ingredients
400g cooked broad beans (200g dried, soaked overnight and cooked)
¼ cup Extra Virgin Olive Oil
20g butter
2 onions
2 cloves garlic, finely chopped
8 sprigs thyme
2 carrots, cut into ¾ cm dice
2 sticks celery, cut into ¾ cm dice
250g cooked smoked pork belly
Rind from a 200g piece if Regianno Parmigano plus some shavings for garnish
500g tomato passata
1.5L brodo stock
1 large zucchini ¾ cm dice
1 cup green beans, chopped into 1cm lengths
½ bunch kale
Sea salt
Black pepper
Parmesan to garnish
Flat leaf parsley to garnish
Method
Place the broad beans in a bowl and cover with 4 times the amount of water, leave overnight or for 12 hours.
The next day, strain and rinse the beans, place in a large pot with 4 times the amount of fresh water, bring to the boil, skim off any white bubbles, turn down and simmer for 40 minutes or until tender.
Heat a large pot on the stove, add the Extra Virgin Olive Oil, butter, diced onion, thyme and garlic, cook gently, avoid getting any colour, lightly season.
Add the diced carrot, green beans, celery and diced pork belly, cook for 2 minutes.
Deglaze the pan with the stock, add the passata, bring to the boil, skim off any impurities, place a lid three quarters over the pan and simmer 30 minutes.
Add the broad beans, zucchini and finely chopped kale, simmer for a further 20 minutes.
Allow to sit for 10 minutes, remove the thyme and parmesan rind and check seasoning.
Ladle into soup bowls, top with fresh leaves of chopped flat leaf parsley, a drizzle of olive oil and shaved parmesan.
PDF Recipe Card You may need to right-click the link and 'Save target as...' to download this file.
Pumpkin & Zucchini Loaf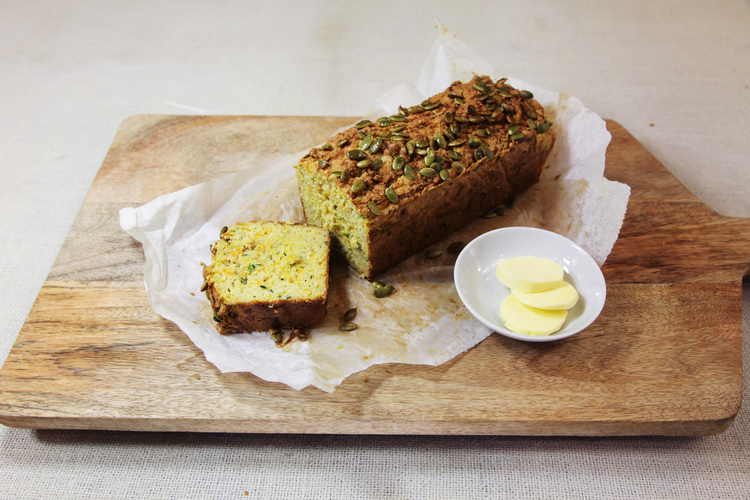 A beautiful taste of the season, this loaf cake is perfect to slice and freeze, pulling out a piece at a time to toast with tea, now that the cool weather is here.
Makes 1 loaf
Ingredients
2 cups grated pumpkin
1 cup grated zucchini
¼ cup tahini
5 eggs
3 tablespoons extra virgin olive oil
2 cups almond meal
1 cup oat meal
2 teaspoons baking powder
¼ tsp Himalayan sea salt
¼ tsp nutmeg
¼ cup pumpkin seeds, to top bread
Method
Preheat to oven to 165C. Grease and line a loaf tin with parchment paper.
In a large bowl place the pumpkin, zucchini, tahini eggs and oil- mix well. In a second bowl mix together the meals, baking powder, salt and nutmeg.
Combine the wet and dry ingredients, mix well and spread evenly into the loaf tin. Sprinkle with pumpkin seeds and place into the preheated oven.
Cook for 45 minutes or until the skewer comes out clean. Remove from the oven, allow to cool for 20 minutes before removing from the tin.
Serve warm or leave to cool completely.
Slice 1.5cm thick and freeze portions of 2 slices in snap lock bags.
PDF Recipe Card You may need to right-click the link and 'Save target as...' to download this file.
My 93-year-old Flatmate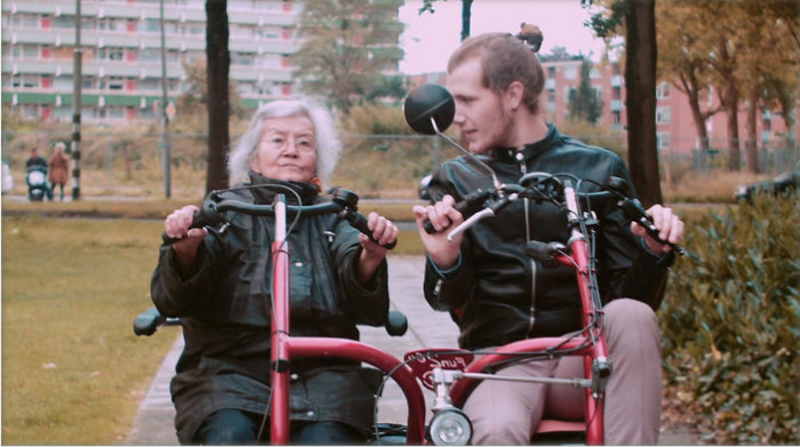 Imagine an aged care home where the residents live side-by-side with young students. It's a reality in the Netherlands that's been a success, and Tuesday's Dateline on SBS will be following this unique approach to intergenerational living.
The students live rent free, solving a housing crisis for them, in return for spending 30 hours a month socialising with the older residents. There's no doubt that it's a huge benefit to both the old and young, and we think it's a story you'll be interested in seeing.
"I think that the students influence the whole tone of the conversation here," Gea Sijpkes from Humaitas tell us. "So that it's not only about death, sickness and old age, but also about youth, about parties, about girlfriends."
The program is called 'My 93-year-old Flatmate' and it will air on SBS Dateline at 9:30pm on Tuesday 3rd May. You can find out more here
Anzacs with a twist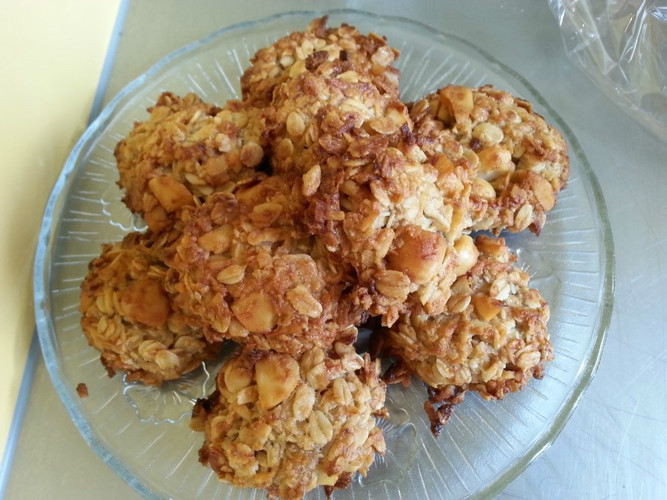 Compared to a store bought Anzac or butternut biscuit, these Anzacs provide more protein and fibre and approximately double the energy. The added banana also makes these biscuits easier to chew.
Makes 22 biscuits
Ingredients
150g rolled oats
30g shredded coconut
Pinch of sea salt
2 large bananas, mashed
80g macadamia nuts, roughly chopped or finely ground
125ml maple syrup
125ml coconut oil, melted
½ vanilla bean, scraped
Method
Preheat the oven to 160C. Grease and line 2 oven trays. Combine the oats, coconut, salt, banana and macadamia nuts in a large bowl.
In a separate bowl, combine the maple syrup, coconut oil and vanilla. Combine the wet and dry ingredients, mix well. Roll (35g) tablespoons of mix into balls, place onto the prepared trays and flatten slightly.
Reduce the oven temperature to 140C and bake for 10-15 minutes or until golden brown, allow to cool and serve.
PDF Recipe Card You may need to right-click the link and 'Save target as...' to download this file.