News
'Creating An Appetite For Life' returns to the Barossa Valley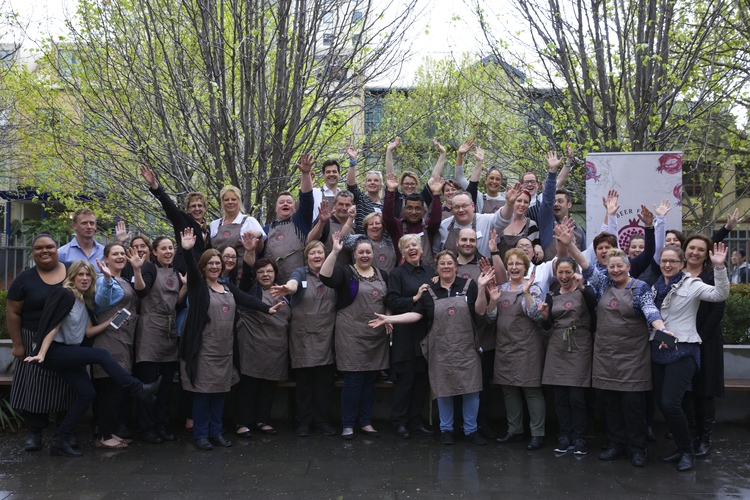 The Maggie Beer Foundation's pioneering program, Creating An Appetite for Life, returns to where it all began, on Maggie's home ground in the beautiful Barossa Valley, Sunday 20 - Tuesday 22 August, 2017.
Once again, the Maggie Beer Foundation is sending out an invitation to passionate aged care cooks and chefs to engage in an Education Program that has proven the strength of its impact with participants around the country, as Maggie explains, "It would come as no surprise that I loved food all my life; it's my joy, and sometimes my heartache, but we can fix that, and together, we can improve the health, happiness and quality of life of every older Australian."
Because Maggie has limited the program to only 30 cooks and chefs, this is very much a hands on experience for everyone taking part; a chance to ask as many questions as you have pop into your head, trouble-shoot the stumbling blocks of cooking in aged care homes, put some fresh thinking around nutritious ingredients, food budgeting, supplier relationships, aged care specific recipes, menus and dining room management.
As always, Maggie has pulled together her A-Team to ensure important ground is covered in a most delicious manner. Amongst the leading experts joining Maggie for the presentations, will be Peter Morgan-Jones, well known to many in his role as HammondCare's Executive Chef. Peter will be discussing texture modified foods and cooking for those with dementia, along with information from specialised aged care dieticians and food safety experts.
All work and no play is far from Maggie's ideal learning environment, so in true Barossa style, she has organised a beautiful home cooked dinner for the night participants arrive in the Valley. That might just be reason alone to make sure you're on the list!
Please note that tickets are based on a 'first in best fed' policy, and are only for those who fulfil the criteria of a chef or cook in aged care, Australia-wide.
Maggie Beer Foundation is particularly excited to announce a generous offer of 10 fully paid scholarships supported by the IOOF Foundation – if you would like to apply for one of these beneficent placements please fill out the Scholarship Application Form here.
CEO and managers in aged care will also be invited to attend a special workshop on Wednesday 23 August in Adelaide. Details will be published on the website in the coming weeks.
Event details
When: Sunday 20 (welcome evening), Monday 21 and Tuesday 22 August, 2017.
Guests will be required to meet at the meeting point in Adelaide at 4:30pm sharp on Sunday 20 August. The coach will transfer all guests to the Barossa.
Where: Barossa Valley, South Australia. The Program will take place at Nuriootpa High School but guests will visit several different locations in the Barossa.
Price: $2,530.00 (includes all fees and GST)
Includes accommodation in the Barossa on Sunday and Monday night, Barossa on-ground transfers, all meals and the Education Program.
Ticket sales open: June 2nd, 2017
Ticket sales close: July 20th, 2017
Successful applicants of the scholarship positions will be notified by 10 July, 2017.
Maggie's New Cookbook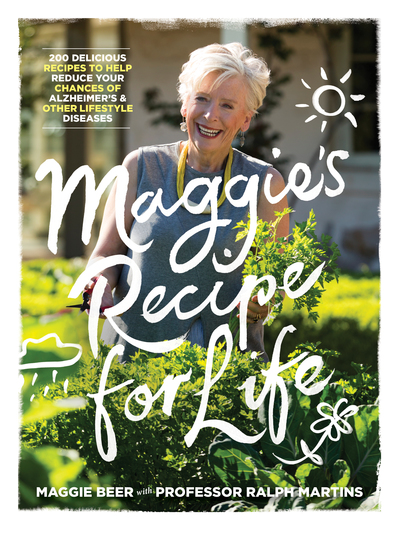 For those wondering whether Maggie's new cookbook would involve the subject closest to her heart, the answer is a resounding yes! And Maggie couldn't be happier about it, as she explains, "This is such an important book for me and something I'm so very excited about, which is why I'm thrilled to reveal the cover for 'Maggie's Recipe for Life', my new book co-written with Professor Ralph Martins."
Published in October 2017 by Simon & Schuster Australia, 'Maggie's Recipe for Life' includes 200 delicious recipes to reduce your chances of Alzheimer's and other lifestyle diseases. The book's proceeds will be shared between the Maggie Beer Foundation and the Lions Alzheimer's Foundation.
Paula Wolfert 's Avocado Sardine Toasts
Maggie's food hero Paula Wolfert believes this recipe to be a wonderful example of "brain food".
A combination of silky, paper-thin slices of ripe avocado and marinated fat strips of salty sardine fillets topped with crisp strings of scallions and chives makes for a great textural contrast; and is easy to duplicate and hard to forget.
Serves 4
Ingredients
4 tbsp extra-virgin olive oil
2 tbsp chopped flat-leaf parsley
1 tbsp sherry wine vinegar
Salt and freshly ground pepper
2 (4 1/2 ounce) cans Portuguese whole sardines packed in olive oil
1 large firm, ripe Hass avocado
4 to 6 day-old, thin slices of country-style bread
4 scallions (white part only) cut lengthwise into thin strips about 1 inch long
Chives for garnish
Method
Make a parsley vinaigrette by whisking together the olive oil with the parsley and vinegar in a medium bowl. Season with salt and pepper to taste.
Drain the sardines, divide into fillets, and soak in the vinaigrette for at least 1 hour. For easier slicing, chill the avocado in the refrigerator for 1 hour.
Using a mandolin or a 1mm slicing blade, carefully slice the avocado paper-thin. Remove the skin and pit as you slice.
Grill the bread, turning once on a grill over hot coals or in a fry pan with a little butter or oil until nicely browned on both sides. Drain the sardine fillets and lightly brush the toasts with the vinaigrette.
Pile 3 or 4 slices of avocado onto each toast, top with a portion of the sardines, and scatter scallions (spring onions, shallots) and a few chives on top. Serve at once.
Recipe © 2003 Paula Wolfert
From It's All About the Food not the Fork! – crackingrecipes.com
Vegepod - the complete vegetable garden kit

Most may know that Maggie is an avid gardener and one of her visions is that some day, every aged care home (and every resident!) will have access to a beautiful garden.
We know that many homes may not have the space, time or resources to build a garden - but there are products that exist that can help!
Vegepod is an innovative raised garden bed which is easy to manage and just perfect for an aged care home.
It uses a self-watering technology which waters the plants from below; and plants can last weeks without watering.
Vegepods also come in three different sizes that accommodate for any space, standing or sitting - meaning its perfect for those who are not as mobile.
You can find out more by visiting the Vegepod website.
"Lively"

Always keen to blow the trumpets of those contributing to the changing face of aged care, Maggie would like to let everyone know about a wonderful initiative called Lively.
The idea of the organisation is to bring together young jobseekers looking for experience, with those who have the time and desire to share a lifetime worth of knowledge - older people.
No young or older person feels unwanted or undervalued because of their age, and Lively sets about aiding both parties by simply bringing them together. By connecting the generations, meaningful employment is created for young jobseekers, while at the same time engaging older people to share skills and experience. With statistics of 2.5 million older Australians feeling ignored, unwanted or discriminated against because of their age, and 580,000 young people unable to find an employer who will give them a chance, because of their youth and lack of experience, Lively joins some very obvious and effectual dots to build a better future. One in which no person experiences exclusion or disadvantage because of their age, and in which all young and older people are supported to live meaningful, connected and fulfilling lives.
If you would like to know more about Lively and the important work they are doing, please visit Lively's website.