News
Roasted Apricots with Runny Custard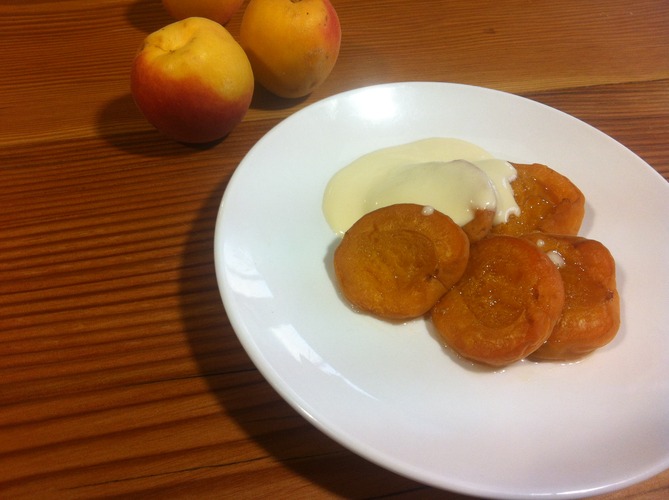 Serves: 6-8
Ingredients
1 kg fresh apricots
3 tbsp brown sugar
Method
Preheat a fan forced oven to 220C.
Cut apricots in half and remove the stone.
Place the apricots cut side facing up on a lined baking tray.
Sprinkle the brown sugar over the apricots, then place them into the preheated oven and bake for 15 mins, or until slightly golden brown and soften.
Serve with runny custard.
BT Financial Group & Abbeyfield Home
Financial planners from BT Financial Group recently visited the Barossa Valley, where they took part in a culinary challenge to support a local nursing home, as well as donating towards the Maggie Beer Foundation.
The challenge, Garden to Plate, was held on the Jacob's Creek Estate and was a Masterchef style experience, where teams had to recreate some of Maggie's original recipes from the raw ingredients. Some were even picked directly from the Jacob's Creek garden!
Watching over proceedings were residents of the local Abbeyfield Residential Home, who gave Maggie some tips when it came to judging time! The 30 residents, aged up to 99 years old, also enjoyed the outcome of the challenge with 16 delicious canapés and dishes to sample.
The 170 participants experienced first-hand why Maggie started the Foundation. As she explained, everyone deserves good food, especially our elderly citizens. Good food makes a difference to quality of life, and it's time to come together to create change in our communities for our senior citizens.
The participants were also delighted to receive a cook book from the Abbeyfield residents, which captured all their family favourite recipes. The whole experience was special for everyone involved, and will be remembered for many years to come.
Retirement Living Summit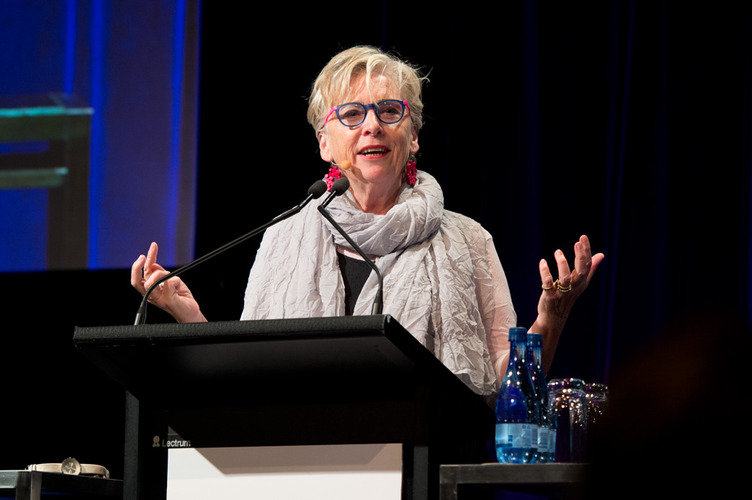 Creating a positive future for older Australians was the central theme of the Retirement Living Summit, held in Sydney on Wednesday 19 and Thursday 20 November 2014.
Senior leaders, retirement living staff and representatives from related industries gathered to discuss the initiatives making residents' lives better, and also how to continue to create positive change.
There was particular focus on enhancing the image of retirement living among the wider population; how villages play a role in ensuring older Australians stay active and healthy and what role retirement living operators will play in providing care services. Practical and useful case studies were also discussed, with Maggie's interview with Alison Quinn, Executive General Manager of AVEO Group, being a highlight. Maggie also spoke to audience members about her mission to improve the standard of food served in aged care facilities across Australia.
47th Australian Association of Gerontology National Conference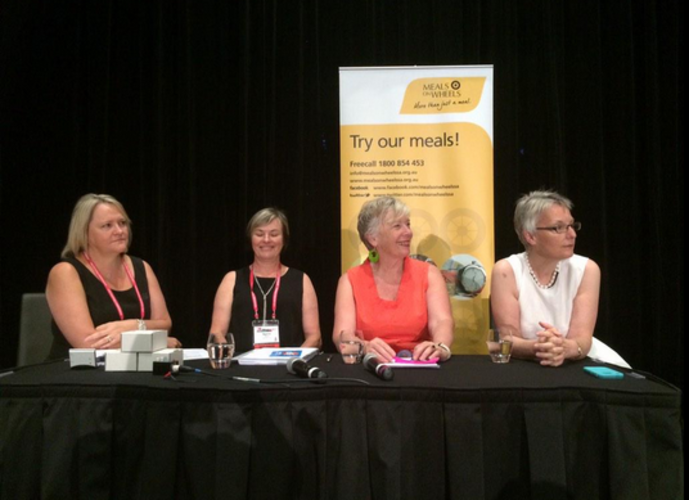 Maggie joined more than 400 delegates from across the multidisciplinary fields of ageing, in Adelaide on the 26-28th November, for the Australian Association of Gerontology's 47th National Conference. A panel of international experts joined local practitioners, researchers, educators and policy makers for the three day conference at the Adelaide Oval.
The AAG is a national body working across the ageing sector to improve the understanding of ageing and the quality of life for older people. The conference enables those working in the field to access new information and build upon existing knowledge of services, programmes, clinical care and ageing policy.
New technologies, innovative thinking, medical advances, changing social structures, and shifts in policies and community attitudes all impact on the way we view and manage ageing today, and the conference offered opportunities to discuss these innovations and changes and to showcase what makes for a 'good innings' in ageing.
Maggie sat alongside author of "Eat To Cheat Ageing", Ngaire Hobbins and Dr Jane Tolman, along with fellow board member Professor Wendy Lacy who was a key note speaker, discussing strategies, issues and gaps in work into elder abuse. The conference was sponsored by Meals on Wheels (SA) Inc and hosted by the Nutrition Colloquium: Eat to Live, Live to Eat.
Maggie commented, "Once people take on board the inspiration and benefits of changing food in aged care they are unstoppable." And Maggie has proven that!
Bartons Fundraising Dinner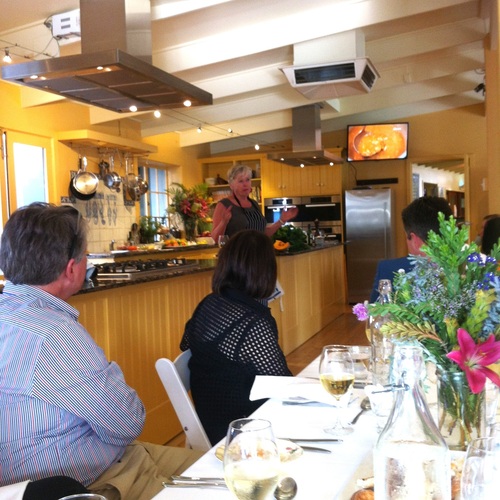 On December 4, Bartons accountants in Adelaide held a fundraiser for the Maggie Beer Foundation. Forty Bartons clients, friends and staff members went by bus to the Maggie Beer Farmshop in the Barossa Valley, where we were exuberantly welcomed by Colin and Maggie like long lost friends, for an evening of fine food and hospitality Maggie-style.
Over a meal of beautifully prepared recipes made from 'Maggie's Christmas', which included sashimi kingfish, roast goose and dried apricot pavlova, Maggie demonstrated the type of meals she would like to see being prepared in aged care facilities, using fresh and nutritious, yet affordable produce.
Maggie's respect for our senior citizens and her care for their well-being was evident in the zeal with which she spoke of the changes she wants to effect in aged care facilities through the Maggie Beer Foundation. Bartons guests found themselves horrified by some of the statistics Maggie discussed, while at the same time being enthused about the possibility of achieving positive outcomes in this area of society.
We are thrilled to announce that Bartons have been able to donate more than $8000 to the Maggie Beer Foundation through the generosity of clients and the Bartons community.