News
Maggie on ABC Brisbane

Nutrition is a big topic, but one of the areas that rarely gets a mention is that of food and the elderly. Maggie and Cherie Hugo were recent guests on 612 ABC Radio Brisbane - discussing nutrition, aged care and the Maggie Beer Foundation. Click here to listen to the 35 minute segment.
Maggie's Visit to Adventist Retirement Village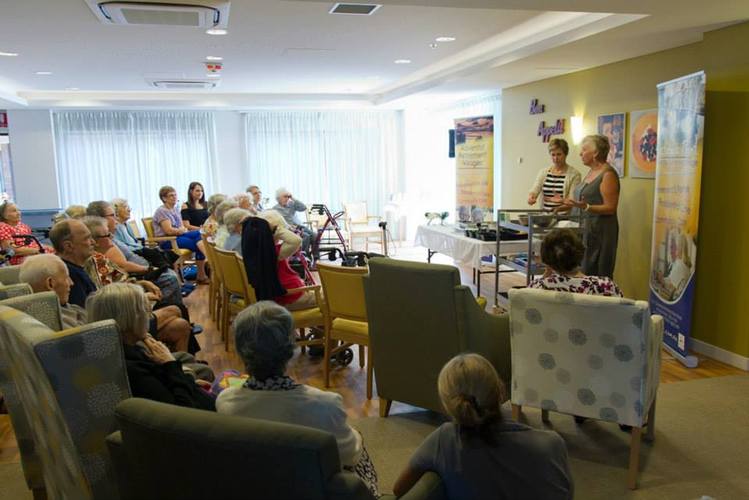 Maggie and Bond University PhD student Cherie Hugo recently joined forces to dish up a nutritious meal for retirement home residents at the Adventist Retirement Village in Victoria Point. The pair spent the afternoon demonstrating healthy cooking with an intimate group of about 25 residents.
The Lantern Project, an initiative of Ms Hugo which is being backed by the Foundation, seeks to investigate food and nutrition in elderly Australians, with the first component, a dental study, expected to be finalised in the coming weeks.
The Lantern Project also is in the process of releasing an app Australia-wide, encouraging residents, family members, aged care staff and other health practitioners to provide feedback on the food and dining experience. This will help to better understand where people's priorities lie, whether it be nutrition, flavour or the dining experience, for example, so we can delve into the complex issue of what is stopping aged care residents from eating and how to increase their intake of nutritious food.
"We are encouraging positive feedback, as well as negative experiences, that will help us learn strategies and techniques that have worked and how we can look to help facilities improve going forward.
Maggie has such a positive message that dining should be about beautiful food and a beautiful experience, and that really supports what we are trying to achieve with The Lantern Project," Cherie said.
Residents had a wonderful afternoon tasting the delicious Frittata prepared by Maggie - check out the recipe here!
Frittata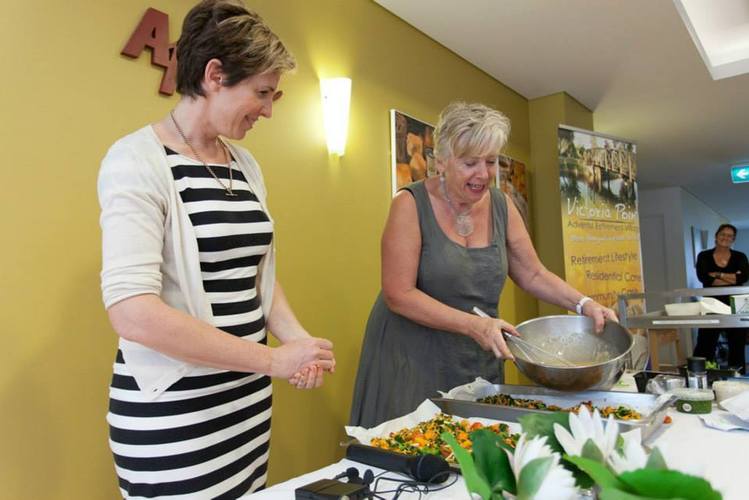 The beauty about this recipe is that you can add in as many vegetables as you like, given that they are in season. Maggie's version contains pumpkin, brie, tomato, kale and basil, and to top it off, a little bit of hommus or pesto. So many wonderful benefits of this Frittata; the eggs and cheese are great for protein, the sundried tomatoes contain caretenoid antioxidants (which can reduce the risk of cataracts and age related macular generation) and not to forgetting kale - packed with antioxidants which help to starve off free radical damage in the body- closely linked to ageing and disease.
This recipe makes 1 large gastro tray (approximately 80 portions)
Ingredients
½ small butternut pumpkin, 1 cm dice
Drizzle Extra Virgin Olive Oil
Salt and pepper
500g kale
1 punnet cherry tomatoes
½ bunch sage, finely chopped
½ bunch basil, finely chopped
4 tablespoons semi dried tomatoes
4 carrots
28 eggs
2 tablespoons tomato paste
1 cup grated cheddar cheese
200g brie- chopped into small pieces
100g hommus/pesto to pipe on top of each piece when serving
Method
Cut and drizzle the pumpkin with Extra Virgin Olive Oil, then season and roast at 200C for 15 minutes, or until tender and golden.
Bring a pot of salted water to the boil, trim stems off kale and blanch for about 3 minutes and refresh in iced water. Squeeze out excess liquid and chop into small pieces.
Half the cherry tomatoes and sprinkle generously (about 1 teaspoon) with salt leave in a sieve to drain. In the meantime, cut the herbs, semi dried tomatoes and grate the carrot. Whisk together the eggs and tomato paste and skim any foam.
Combine the pumpkin, herbs, carrot, kale, cheddar, tomatoes and seasoning in a large bowl and spread evenly over the base of a lined gastro tray.
Carefully pour over the egg mix; it should just cover the mix. Sprinkle with diced brie and bake at 170C for 20 minutes- or until set with nice golden colour on top. Rest and cool before cutting.
Top with pesto or hommus.
Research Report

Since the launch of the Maggie Beer Foundation (MBF), a plethora of correspondence has been received from various individuals and organisations with offers of help, comments on the food experiences in aged care homes, suggestions and requests. With the support of Flinders University, who very generously offered one of their Nutrition and Dietetics students to lead the research project, we pursued the task of analysing all forms of correspondence received, highlighting several common themes.
The aim of this report written by Flinders University student Renee Fenton was to collate and synthesise the unsolicited correspondence to identify stakeholders' attitudes.
Two hundred and two items of correspondence including letters, emails, comments were sourced and collated. Correspondence was separated into 11 stakeholder groups and analysed using common theme analysis.
Within the correspondence, five major themes were identified:
Perceptions of the food provided in aged care homes
Impact of food provided in aged care homes
Constraints to improving the food provided in aged care homes
Suggested solutions
Support for changes to food provision in aged care homes
The first theme identified the perception of the food in aged care homes from stakeholders as being mostly 'poor quality food'. This theme highlighted the potential areas for improvement towards providing 'good food' to residents in aged care homes and challenged the definition of what various groups would define as 'good food'. Comments also alluded to people perceiving food prepared in commissary kitchens as being inadequate.
The second theme identified the impact of the food provided, whereby staff reported feelings of distress providing or serving the food with some staff leaving their position because of it. Family reported how painful it was to observe, residents felt powerless and some families brought in food or meals to compensate for the food being provided in residential care homes. Another emerging theme was the need for residents to have food and an eating environment that was 'familiar', including people from different cultures.
The third theme explored the constraints associated with improving the food in aged care homes according to stakeholders. From the correspondence these included: impeding food safety rules, an inadequate budget for meals in aged care, and attitudes of staff that were either resistant to change and/or acknowledged that change was required but felt disempowered. Finally the skill level of cooks, chefs and food providers in aged care homes was identified as a constraint. The need for menus with variety, that included cultural diversity but were familiar, were flavorsome and within budget constraints was reported as requiring considerable skills to plan and execute and that these skills were lacking in the residential aged care setting.
The fourth theme of 'suggested solutions' from stakeholders encompassed the need to improve the food in aged care homes, the need to challenge current attitudes, the need to address budget and food regulation constraints and the need to change food culture. Suggestions included the need to involve residents in menu planning, establishing self-sustaining practices such as edible gardens, creating a familiar eating environment for residents and for homes to be more open about budget and how food is prepared. Many positive examples of steps towards change already being implemented in residential care facilities were also provided, and serve as potential suggestions for future direction.
Strategies for change
To facilitate the provision of 'good food' to residents in aged care homes, several changes need to be implemented. The following suggestions were made by stakeholders to help address the need to improve food:
Development of menu and meal standards for aged care homes in Australia
Providing residents with meal choices on the menu
Involving residents and their families in the development and review of menus
Regular review of menus to ensure nutritional adequacy and resident satisfaction
Use of moulded modified texture foods to improve the appearance of meals
Plantation of edible gardens in aged care homes
Increasing advocacy and awareness surrounding the current food situation in aged care homes and the need for improvement.
The fifth and final theme demonstrated an overwhelming amount of support for the MBF and changes to the provision of food in aged care, with more than 90 comments of support, many invitations to collaborate with the MBF, offers of services and several stakeholders seeking the support of Maggie Beer to help in their own missions to improve food for older persons.
The findings of this analysis indicate that strategies need to be implemented to empower and enable staff in aged care homes to facilitate action, with change occurring from both 'top down' and 'bottom up'. This involves 'top down' support from management to review the budget allocated to meals, and to provide leadership in changing the culture surrounding food in aged care. The role of management can also be enabling by providing support for the upskilling of cooks and chefs. Staff, residents of aged care homes and their families in turn can contribute to the well-being of older persons through collective change.
The correspondence provides insight into what people think about the issue of food provision in aged care homes. Although the comments are 'natural' and therefore unfiltered and from a skewed group they do provide an understanding of people's attitudes and an insight into what 'good food' means. They also reflect the considerable support for the MBF to collectively bring about change to the well-being of older persons through the provision of flavoursome and nutritious food in aged care homes. Only through the collective efforts of many committed individuals, will the provision of 'good food' in aged care homes in Australia be achieved.
Download entire research report here You may need to right-click the link and 'Save target as...' to download this file.
In the media...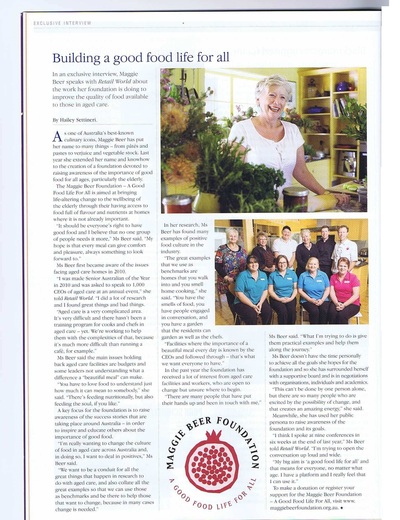 Maggie discusses the work of the Foundation in this months issue of Retail World.
View the feature here You may need to right-click the link and 'Save target as...' to download this file.