News
The Right Moves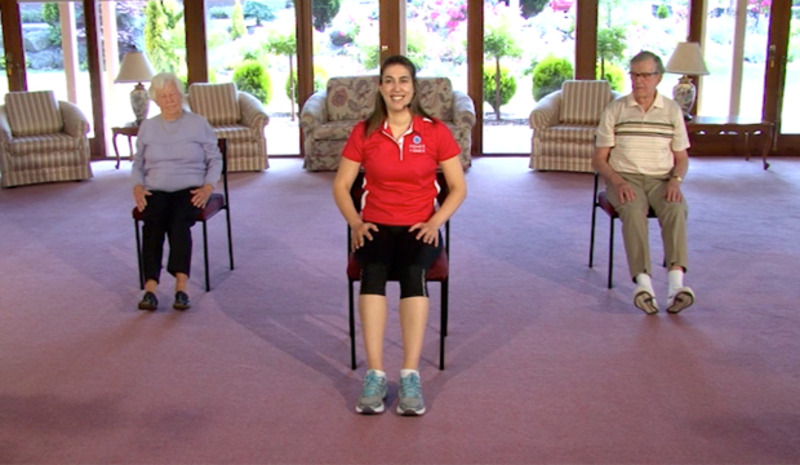 Research reveals exercise need not be strenuous, but rather any kind of regular movement of the body is so good for brain health and lift the spirits. It is also known fact exercise can reduce symptoms of depression.
Exercises like yoga can even be done from a chair. If extra inspiration is needed, Channel 31's 'Move It Or Lose It' airs weekdays at 8:30am and is produced by Arthritis Victoria. Tune in to view a different variation of gentle exercise every day.
The Big Bethanie Bake Off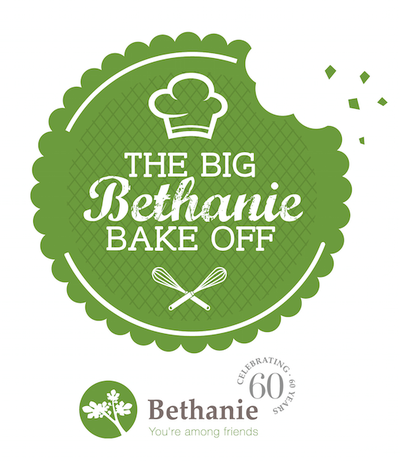 Last month, Maggie had the pleasure of partnering with Bethanie homes and Devashavin PR in Western Australia to help host their annual 'Big Bethanie Bake Off'. This fantastic opportunity allows Bethanie members, along with school students and their grandparents, to take part in a cooking competition based on "an old favourite recipe". Each recipe was submitted along with a summary that reflects upon grandparents' backgrounds, and the story behind the chosen recipe. The story represents the life of the grandparent, the culture, the history, the background and their multitude of experiences.
Finalists were selected to compete in a live bake-off against other teams, with all entries judged by Maggie. Dishes were marked on creativity, appeal of dish, nutritional content, and the story behind their favourite recipe. Maggie saw some fantastic culturally inspired culinary entries that have been shared through the generations.
The finalists will compete against each other at Have a Go Day, which will be held in Burswood, WA on 12th November 2014 for a live Grand Finale bake off – with one winner announced from each category.
To learn more, visit www.bigbethaniebakeoff.com
Getting Technical
Technology can provide a wonderful platform to bring a sense of connection and stimulation for residents.
Healthcare experts have found a way to bring serenity to the lives of people with dementia through thrill-a-second gaming technology. They want to use the technology to create virtual experiences people can enjoy at home or in care centres. The idea is to replace bouts of anxiety, agitation and depression with a distraction that is calming or engaging. Alzheimer's Australia VIC has teamed up with Opaque Multimedia - a Melbourne digital-design studio - to develop this technology. Learn more about the Virtual Dementia Experience by watching the video above.
Handheld iPads are great for brain games games such as BrainyApp and many are available free on the App Store or Google Play. Other great brain games are available online at the Brain Food Factory (www.brainfoodfactory.com).
Access to Skype and email to contact family and friends is so important too. The elderly love photos, so be sure to take photos of residents during events and share later on a large screen.
Another tip is to introduce MP3 players – one study confirmed they provided stress relief for caregivers and were perceived in most cases to be an enjoyable activity for the person living with dementia. Music from the resident's era in particular can aid relaxation and happiness.
Do you have any other great ways to use technology in order to engage and entertain residents? We would love to hear from you! Please email us at info@maggiebeerfoundation.org.au.
Brisbane Good Food & Wine Show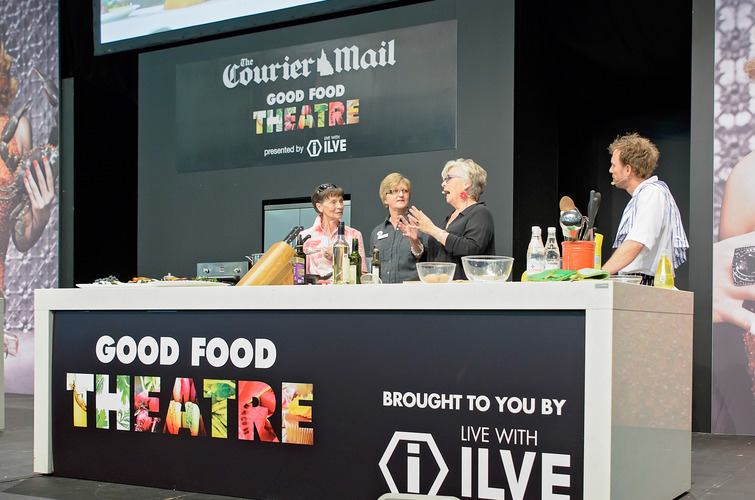 Earlier this month, Maggie offered free tickets to all residents and staff of several AVEO retirement villages from all around Brisbane, as an exclusive opportunity to attend the Brisbane Good Food and Wine Show. Not only were they offered general entry tickets to the show, but also gained an invitation to her celebrity theatre session, where she discussed her foundation and the importance of 'A Good Food Life for All'. The session included a cooking demonstration of foods that are most beneficial for brain health, reflecting Maggie's foundation philosophy; working with a measured approach of equal parts compassion; to ask the questions that make all the difference to dignity, and the science to make change happen.
During Maggie's two live sessions on the day, Enes Thompson of AVEO Clayfield, Annette Viggers of AVEO Taringa, and Marlene Williamson and Meg Leaming of AVEO Durack, were called on stage to cook with Maggie and be chief taste testers for some of the recipes Maggie was creating. Beyond the stage, Maggie really enjoyed the chance to meet several of the AVEO residents after her celebrity theatre session had wrapped up.
Chicken & Vegetable Pie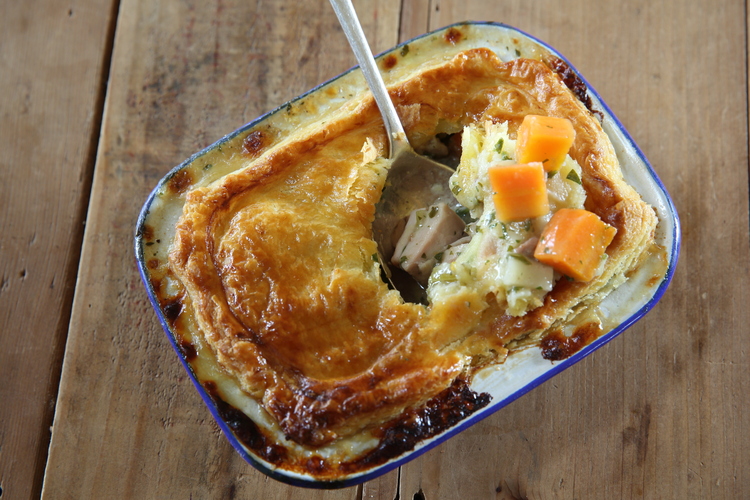 This is a lovely twist on the commercial chicken pie. With plenty of flavour and a lovely texture, this will be a favourite. The chicken and vegetables are a good source of protein and energy which is important for nutritional health in older adults.
Serves: 25
Preparation: 20 minutes
Cooking: 45 minutes (cooking pie filling) + 30 minutes to bake.
Ingredients
100ml Extra Virgin Olive Oil
20g rosemary
1.5kg chicken thigh fillets, 20mm diced, skin on
40g salt
¼ cup white wine
1.6 L chicken stock
500g carrots, 12mm diced and steamed
300g parsnip, 12mm diced and steamed
200g celery, 10mm diced
50g pie gel, thickener
Freshly cracked black pepper to season
60gm flat leaf parsley, roughly chopped
360g Sour Cream Pastry (see below)
Sour Cream Pastry
125ml sour cream
250g plain flour
200g unsalted butter, chilled
Method
Place the Extra Virgin Olive Oil and rosemary into a large pot over a high heat. Allow the oil to heat up and to allow the rosemary to infuse the oil. Once the oil is hot, remove the rosemary and discard.
Meanwhile, sprinkle over half the amount of salt and rub into the chicken. Brown off the chicken in batches, so that the pan is not over crowded. Allow to seal / brown for 2 to 3 minutes, then remove and place onto a tray to rest. Repeat this until all the chicken has been browned off.
Place the celery into the pot and sauté off for 3 to 4 minutes, then deglaze with the white wine and allow to cook for a further 2 to 3 minutes. This will help to remove all the flavour from the bottom of the pot.
Add in the chicken stock and bring to the boil. In a small bowl, mix 100ml of water with the pie gel and combine well, then pour this mixture into the pot to thicken the chicken stock and season with the remaining salt and black pepper.
Turn the heat down to low and allow the mixture to gently cook for 3 to 4 minutes.
Turn off the heat and stir through the carrots, parsnip, parsley and sealed off chicken. Place the mixture into a clean container and place into the fridge to cool.
Pre-heat a fan forced oven to 220C. To make the pastry, dice the butter, then pulse with the flour in a food processor until the mixture resembles fine breadcrumbs.
Add the sour cream and continue to pulse until the dough starts to incorporate into a ball.
Wrap the dough in plastic film and refrigerate for 20 minutes. Roll the chilled pastry out until 3 mm thick.
Once the chicken and vegetable mixture has cooled, place this into a large pie dish and place the pastry on the top.
Place this back into the fridge for 20 more minutes so that the pastry is completely chilled.
Place the pie into the pre-heated oven and cook for 20 to 30 minutes. Divide in portions and serve.
Download Costing Information
Excel document You may need to right-click the link and 'Save target as...' to download this file.