News
CEOs and Mangers 'Food for Thought' workshop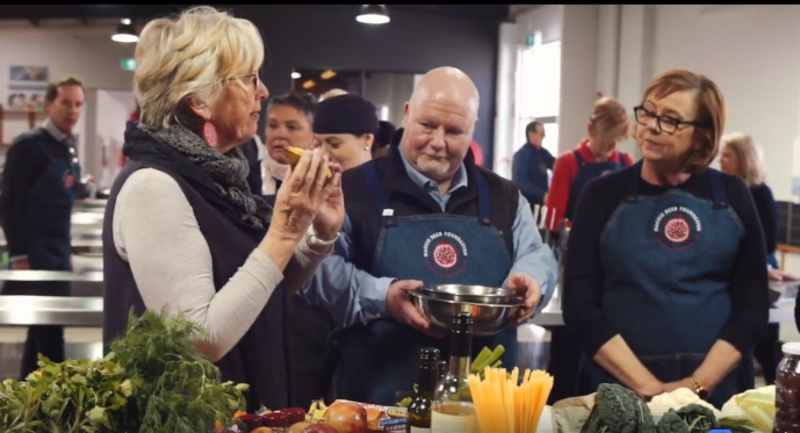 Spiced Carrot and Macadamia Cake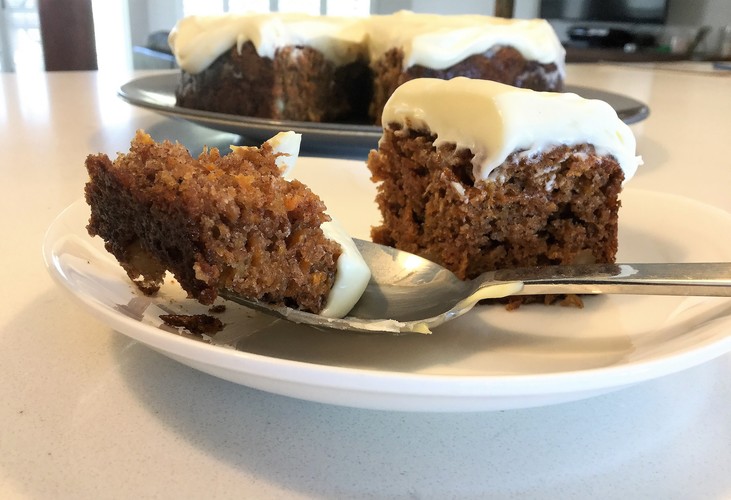 INGREDIENTS
120g macadamia nuts- toasted

40g desiccated coconut

300g plain spelt

8g baking powder

14g bi-carb soda

9g ground cinnamon

3g freshly grated nutmeg

2g salt

400g castor sugar

3 free range eggs

70g buttermilk

60g macadamia oil

1tsp vanilla bean paste

40g naked ginger finely chopped

250g grated carrot

250g drained crushed pineapple
SYRUP
60g castor sugar

60g buttermilk

60g unsalted butter
ICING
250ml thickened cream

200g sour cream

320g icing sugar

2 tsp freshly grated lemon zest
METHOD
Preheat the oven to 180C
Grease and line 2x 24cm spring form tins with parchment paper
Place the macadamia nuts and coconut on separate trays and toast for 4-8 minutes or until golden, remove from the oven to cool. Roughly chop the nuts
Grease and line 2x 24cm round cake tins
Sift dry ingredients together
Whisk all wet ingredients together
Add the wet ingredients to the dry and fold in the coconut, nuts, ginger, carrot and pineapple.
Divide the mix evenly between the two tins (approximately 880g per tin)
Bake at 180c for 40-50minutes or until golden and skewer comes out clean- immediately pour over syrup and allow to cool.
SYRUP- bring to the boil and pour hot syrup over the cake as soon as it comes to the boil
ICING- Beat together all ingredients until thick
ECONOMIC COST OF DEMENTIA 2016 - 2056

Dementia Australia has released a report on the economic cost of Dementia from 2016 to 2056 in Australia.
Highlighted in this report is the need to prioritise incorporating measures that will reduce your risk of Dementia, including following a Mediterannean style diet.
"We know that what is good for your heart is also good for your brain. There are things you can do to reduce your risk of dementia.
Firstly, look after your heart - treatment of high blood pressure, high cholesterol, diabetes and obesity is necessary for good heart health and is likely also to protect brain health.
Increase physical activity to the nationally recommended 30 minutes a day for adults and eat a healthy Mediterranean-style diet, high in omega 3, polyunsaturated and monounsaturated fats - found in fish and olive oil. Limiting the intake of saturated and trans fats, which are often found in take away and sweets, can also lower the dementia risk."
Click here to read the report.
Based on the latest scientific research, Maggie has teamed up with Professor Ralph Martins and created more than 200 recipes that help provide the nutrients we need for optimum brain health.
To get your copy of "Maggie's Recipe for Life" and take the first step to Alzheimer's prevention click here.
The proceeds from Maggie's Recipe for Life will be shared between the Maggie Beer Foundation and the Lions Alzheimer's Research Foundation.
'Food for Thought' debuts in Brisbane in 2018!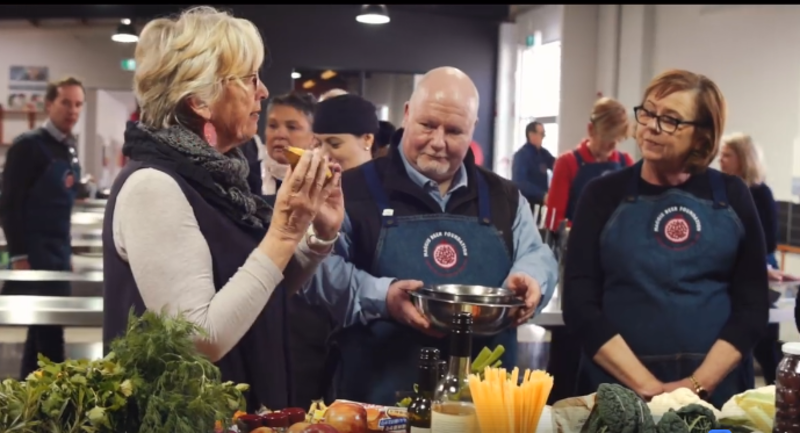 Knowing that a meal cooked with care is one of the very best ways of nurturing wellbeing, the Maggie Beer Foundation was established to Create an Appetite for Life, regardless of age or health restrictions. And the best way Maggie knows to effect the change she champions is to go to the source of the decision-making process; the CEOs and managers of aged care homes.
In order to effect change in a way that is greater than the sum of its parts, the Maggie Beer Foundation is once again offering the proven success of a specialised workshop for CEOs and managers, Food For Thought, Wednesday 11th April in Brisbane.
Following on from the Creating an Appetite for Life Education Program, dedicated to cooks and chefs, Maggie's focus will shift from those creating the food for change, to those in decision making roles to best stream line ideas into action. Food For Thought is a workshop dedicated to opening a dialogue with CEO's, troubleshooting the issues that may be hampering full flavoured, highly nutritious food being enjoyed in aged care homes across Australia.
Food For Thought will offer CEOs and managers across Australia the chance to network with others in management roles, hear from food-focused aged care providers and guest speakers, take part in lively discussions and find out more about the work Maggie Beer Foundation is doing and how best it may aid the decision-making in aged care homes Australia-wide. CEOs and managers who attend will also try their hand in the kitchen with Maggie for the infamous Maggie Beer Foundation Mystery Box Challenge!
To take part in Food For Thought and keep this important conversation going, please book your spot sooner, rather than later, as numbers are limited. Click here to secure your place today!
'Creating an Appetite for Life' debuts in Brisbane in 2018!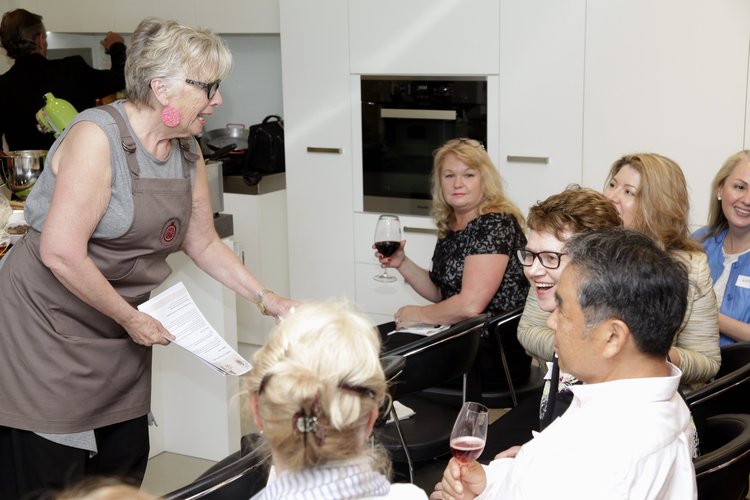 The Maggie Beer Foundation's pioneering program, Creating an Appetite for Life, is coming to Brisbane for the first time, Sunday 8 - Tuesday 10 April, 2018.
Once again, the Maggie Beer Foundation is sending out an invitation to passionate aged care cooks and chefs to engage in an Education Program that has proven the strength of its impact with participants around the country. As Maggie explains, "It would come as no surprise that I loved food all my life; it's my joy, and sometimes my heartache, but we can fix that, and together, we can improve the health, happiness and quality of life of every older Australian."
Because Maggie has limited the program to only 30 cooks and chefs, this is very much a hands on experience for everyone taking part; a chance to ask as many questions as pop into your head, trouble-shoot the stumbling blocks of cooking in aged care homes, put some fresh thinking around nutritious ingredients, food budgeting, supplier relationships, aged care specific recipes, menus and dining room management.
As always, Maggie has pulled together her A-Team to ensure important ground is covered in a most delicious manner. Amongst the leading experts joining Maggie for the presentations, will be Peter Morgan-Jones, well known to many in his role as HammondCare's Executive Chef. Peter will be discussing texture modified foods and cooking for those with dementia, along with information from specialised aged care dieticians and food safety experts.
All work and no play is far from Maggie's ideal learning environment, so be prepared to mix inspirational teachings with a beautiful dinner and drinks at one of Brisbane's many fabulous restaurants.
Please note that tickets are based on a 'first in best fed' policy, and are only for those who fulfil the criteria of a chef or cook in aged care, Australia-wide. Upon payment you will be sent a link to complete your registration details. Get your tickets here.
Maggie Beer Foundation is particularly excited to announce a generous offer for a number of fully paid scholarships supported by the IOOF Foundation – to be considered for one of these places please fill out the Application Form here.