News
Champions of Change - Adelaide 2018
Champions of Change is a project launched to continue the good work by the aged care chefs and cooks who have attended Maggie's 'Creating An Appetite For Life' Education Programs; uniting everyone in a series of events and activities put together especially for the purpose of keeping the impetus of this worthwhile change ignited.
We want every chef and cook in our Maggie Beer Foundation family to have every opportunity to become equally passionate advocates for all that has been shared in Maggie's program, and to do that requires constant motivation and inspiration - and that's exactly where 'Champions of Change' steps in.
Each Champions of Change Event is held at a Miele Centre; it's purpose being to reconnect with those who experienced the Programs together but more importantly to discuss to hearing about what changes have been made in their workplaces, the successes they've had, the challenges they've faced and find out what we can do to further assist the chefs and cooks on their food journey within aged care. We also ask that they bring their management team along, as we all know that evidently change needs to be accepted from the top.
During each Champions of Change event, the chefs and cooks are captivated by a cooking demonstration by Maggie and a guest chef.
This time around we were lucky enough to have Simon Bryant with us at the beautiful Miele Centre in Adelaide and needless to say it was thoroughly enjoyed by all.
With special thanks to Simon Bryant and the amazing team at Miele for their generous support, without which these events would not be possible.
Turmeric Cake and Chocolate Mousse Dessert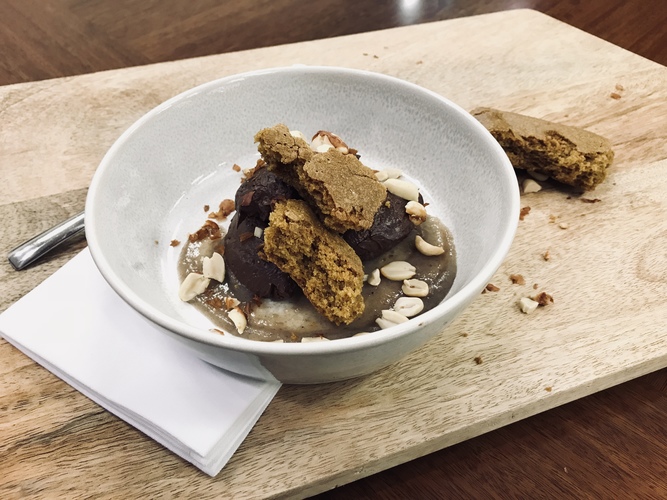 Serves 10
Preparation time 30 minutes
Cooking time 40 minutes
INGREDIENTS
Turmeric cake
*180ml grapeseed oil
*180g caster sugar
*250ml coconut cream
*190g brown teff flour
*70g potato flour
*4g xanthum gum
*10g baking powder
*4g ground turmeric
Banana jam
*5 ripe bananas
*250ml water
*1 tablespoon aged white vinegar
Rich chocolate mousse
*8250g dark chocolate
*50g brown sugar
*30g cornflour
*150ml coconut cream
*200ml water
Salt and vinegar peanuts
*250g raw peanuts
*1 teaspoon salt flakes
*2 tablespoons aged white vinegar
METHOD
Turmeric cake
*Pre heat the oven on Fan Plus 160°C with a wire rack placed on shelf 2. Using an electric mixer with a paddle attachment, beat the sugar, oil and coconut cream until well combined, 2-3 minutes.
*Sift together the remaining dry ingredients then add to the oil and sugar base, mix until well combined, 2-3 minutes.
*Pour the batter into a paper lined 20cm X 30cm slice pan then place into the oven on the wire rack.
*Bake for 30 minutes then reduce the temperature to 100°C and bake for a further 10-15 minutes or until a skewer comes out clean. Remove from the oven and cool on a wire rack in the tin.
Ganache
*Break the chocolate into small pieces and place into the bowl of an electric mixer.
*Combine the remaining ingredients in a saucepan and stir with a whisk to ensure that the corn flour is dissolved and free of lumps. Bring to a simmer while whisking on medium to high heat, Induction setting 7. Simmer for 2-3 minutes until the mixture thickens and becomes translucent.
*Pour the hot mixture onto the chocolate and stand for a few seconds before whisking to form a smooth emulsion, the mixture should have a slight wobble and be free of lumps. Place the bowl onto the mixer with the whisk attachment; whisk until cooled and lightly aerated. Transfer to a clean container with a lid and refrigerate until needed.
Banana jam
*Add the bananas and water to a medium saucepan. Bring to a simmer on moderate heat, Induction setting 6. Simmer until the banana is tender, 5-10 minutes.
*Using a stick blender puree the banana in the pan, return to cooktop and simmer on medium heat, induction setting 5, while stirring until a jam consistency is achieved, 5 minutes.
*Add the vinegar and stir to combine. Transfer to a clean jar or container with lid and refrigerate until needed.
Salt and vinegar peanuts
*Toss the peanuts in salt flakes and vinegar and arrange evenly on a round baking tray.
*Place into the oven on a wire rack set on shelf position 2 and cook on Fan Plus 180°C and roast for 10 minutes or until lightly golden To serve.
*Spread a tablespoon of banana jam in the base of a serving bowl. Top with quinelles of chocolate mousse then garnish with torn pieces of turmeric cake and lightly crushed roasted peanuts.
Note- This dessert is gluten, dairy and egg free, it is suitable for vegans when using certified vegan ingredients
Final days to secure your place in 2018 Masterclass!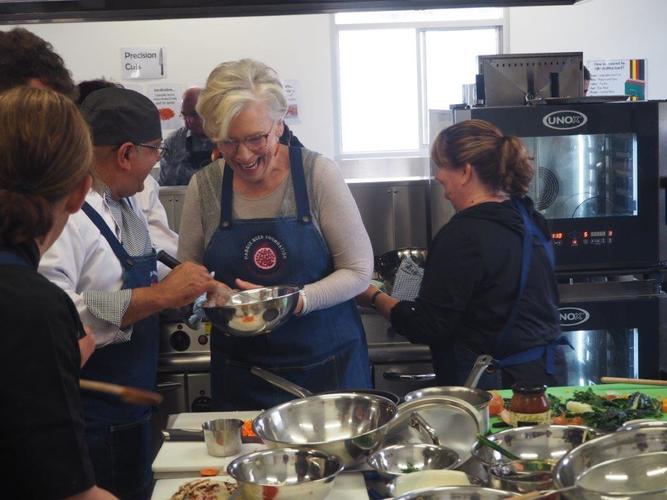 It's your last chance to secure your place in Maggie's upcoming Brisbane Masterclass!
Applications close Wednesday 14th March and there are still some scholarship places available!
Our previous attendees say it best;
"Thank you for hosting the most informative and engaging day of education I've had since being in the aged care sector. A brilliant array of very impressive speakers, it was a real privilege to be involved and I particular appreciated Maggie's understanding that the implementation isn't easy, but it is necessary."
Click here to apply for the cooks and chefs Creating an Appeite for Life program.
Click here to apply for the CEOs and Managers Food for Thought program.
Click here for the scholarship application.
Wellbeing Garden update - AdventCare Yarra Ranges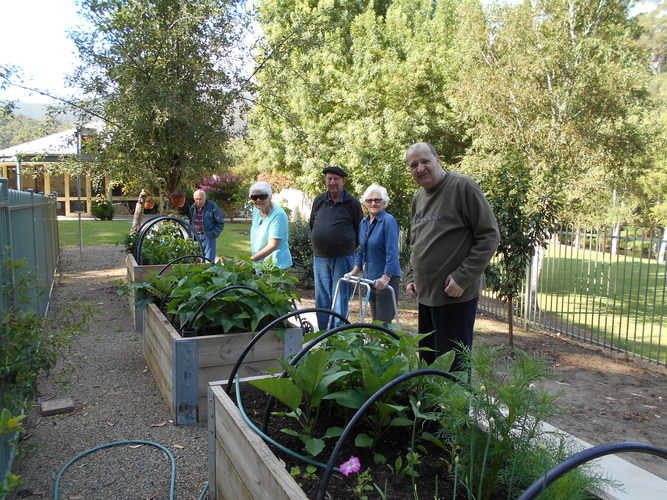 We were so pleased to receive an update from Adventcare Yarra Ranges recently on how their Wellbeing Garden is doing.
"Our residents would like to let you know that they thoroughly enjoy getting out and planting vegetables and watching them grow.
They cultivate all the beds, water them when required and when we go out on our morning walks to the garden their faces light up with excitement when there is produce that is ready to pick. We take a basket out and once picked they proudly carry it inside and knock on the kitchen door to give the produce to our chef who then uses it in the menu for that week.
I would like to thank you for the sensory and enjoyment that all of our residents get from being involved out in the garden."
Antoinette Breteler Lifestyle Coordinator
Parliamentary Friends of Ageing and Aged Care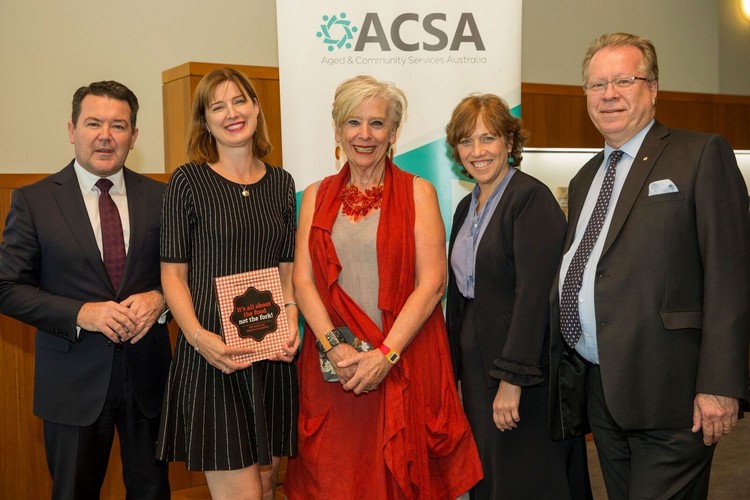 A critical piece of the work being undertaken by the Maggie Beer Foundation is to advocate for transformation of the food experience of older people, bringing life-altering change to the wellbeing of the elderly through good food, full of nutrition and flavour.
Maggie and Foundation CEO Lynn James travelled to Canberra, where Maggie was the guest speaker at the launch of 'Parliamentary Friends of Ageing and Aged Care' group, at Parliament House in Canberra.
The Parliamentary Friends of Ageing and Aged Care group will be a forum for bipartisan discussion on matters relating to the ageing of Australia's population and the provision of quality aged care services in Australia. The group will have a particular focus on reviewing the benefits of aged care sector reforms, the merits of future reform initiatives and staying abreast of emerging trends and issues facing the aged care sector and an ageing Australia.
Maggie spoke about the work of the MBF and how we are engaging cooks and chefs in ages care to cook flavoursome food, using fresh, healthy ingredients.
Maggie also addressed the National Aged Care Alliance, sharing more about MBF and the work we are currently undertaking. http://www.naca.asn.au/
Our message was really positively received and we are really excited about this opportunity. We will keep you updated with how this progresses over the coming months.