News
Maggie's Story - from Senior Australian of the Year to the Maggie Beer Foundation
"In 2010 I was named Senior Australian of the Year and as one of my many engagements I was asked to speak to 1000 CEOs of aged care.
It was then that I realised just how many passionate people there are involved in this industry, all of them trying to do what they can with limited resources to bring every part of the puzzle together to impact change in aged care, but it is a very complex tapestry to manage.
It was my hope to pull all of the various specialist aspects of science, research, nutrition and management under the one umbrella to support this ever growing industry in providing wholesome, flavoursome food to everyone, regardless of age or dietary requirements.
The vision of the Maggie Beer Foundation is to educate and facilitate the food we all deserve, and I truly believe everyone deserves to enjoy good food." Maggie.
Eggplant Bake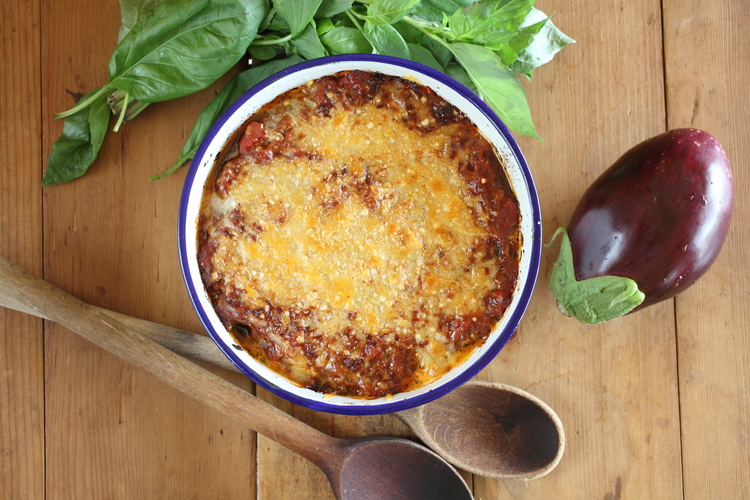 Serves 10
Ingredients
120ml extra virgin olive oil
100g (1 large) onion, finely chopped
1 clove garlic, finely chopped
1 sprig rosemary
Sea salt flakes
20ml red wine vinegar
680g (1 jar) tomato passata
1 (550g) eggplant
200g button mushrooms, sliced
1 sprigs rosemary
20g butter
120g baby spinach leaves
1/4 cup chopped fresh basil leaves
100g ricotta cheese/cheddar
30g finely grated parmesan
Method
Preheat the oven to 220C. Place a medium sized pan on the stove over medium heat, add 20ml olive oil and the onion and cook for 3 minutes. Add the garlic, rosemary and a large pinch of salt and cook for a futher 3 minutes.
Deglaze the pan with the red wine vinegar, add the passata, turn to the lowest heat and allow to simmer for 10 minutes.
Meanwhile, slice the eggplant lengthways into 1 cm thick slices, drizzle with the 80ml olive oil and a generous pinch of sea salt. Heat a large pan over medium high heat, add another 20ml of olive oil and cook the eggplant until golden on both sides (about 6 minutes), then remove from the pan and set aside.
Using the same pan, add 20ml olive oil and saute the mushrooms with the rosemary and butter until tender. Stir in the baby spinach to wilt, season and remove from the heat.
Using a 24cm square baking dish (or similar), assemble the bake. Start with an even cover of the tomato base on the bottom, followed by a single layer of the eggplant, a scattering of basil, then the mushroom spinach mix. Layer again with more tomato, eggplant, tomato and finally top with cheese.
Place into the preheated oven and bake for 25 minutes or until the top is lovely and golden. Allow to cool for 15 minutes before serving.
PDF Recipe Card You may need to right-click the link and 'Save target as...' to download this file.
Strategic Plan 2016/2017
The newest Strategic Plan document created by MBF Board Members is now available for public distribution.
This plan charts a course to grow the influence of the MBF through the certification of food providers, by building skills and awareness of those preparing the food and in facilitating a research program to create the evidence that will drive policy and culture change for the benefit of older people in our community.
Download Strategic Plan Document You may need to right-click the link and 'Save target as...' to download this file.
New Ground for Maggie Beer Foundation
With special thanks to a grant from The Yulgilbar Foundation, for the first time ever, Maggie Beer is heading to Northern NSW this year with her program, 'Creating An Appetite For Life'!
Sharing specialised information and workshops that regional communities have not previously been able to access, Maggie explains, "My aim is to inspire and challenge chefs and cooks from regional aged care homes to create wholesome, memorable, low cost meals, every day in their kitchens."
Running a total of three separate one-day workshops for chefs and cooks working in Northern NSW, these are strictly limited to 30 cooks and chefs per location, at a cost of just $100.
A concentration of hands-on experience with cooking activities across the day, the workshop focuses on fresh thinking around aged care specific recipes, making the most of the local produce on offer in each region. Chefs and cooks who attend will also have the opportunity to apply for a Wellbeing Gardens Grant; which will support the development of a new garden in their aged care home.
Whilst Maggie is road tripping through Northern NSW she will also be offering two ground breaking workshops tailored to those in decision making roles in aged care. 'Food For Thought' Workshops are dedicated to opening a dialogue with CEOs and managers in aged care in Northern NSW, troubleshooting the issues that may be hampering full flavoured, wholesome food being enjoyed in homes.
Applicants must be from Northern NSW aged care homes. Be quick - spots are limited and applicants can only apply for one workshop.
Tickets can be purchased via the links below.
'Creating An Appetite For Life' Aged Care Chefs & Cooks Workshops
'Food For Thought' CEO Workshops
Download Workshop Flyer You may need to right-click the link and 'Save target as...' to download this file.
Gubinge Bark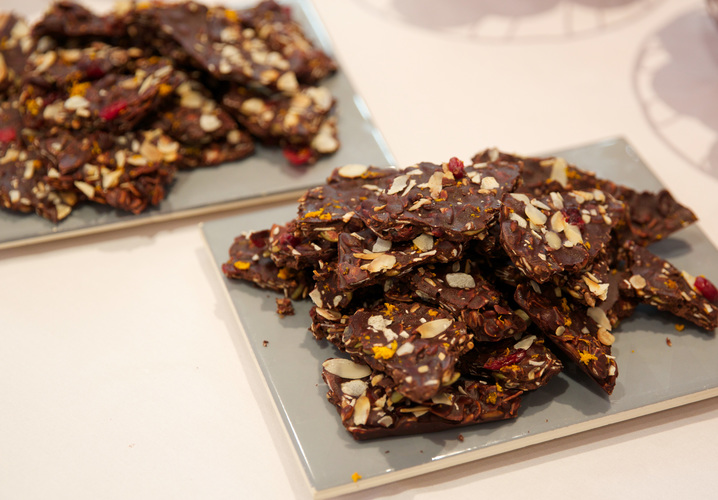 Gubinge is an incredible superfood, native to us here in Australia. Also known as Kakadu Plum, it is recognised as the highest source of Vitamin C in the world! Maggie has created this recipe to ensure we can all get some Gubinge in our diets, however if it is too tricky to find, please know that this delicious dark chocolate and fruit treat will still offer plenty of health benefits even if you leave the Gubinge powder out. We think it makes a beautiful gift idea for Christmas too, broken into pieces and hand wrapped. 
Makes 50
Ingredients
620g good quality dark chocolate
83g coconut oil
100g toasted pumpkin seeds, finely chopped
100g toasted sunflower seeds, finely chopped
4 teaspoons Gubinge powder
Pinch Himalayan sea salt
145g cranberries or sultanas
170g flaked almonds, toasted & finely chopped
2 teaspoons orange zest
Method
Line a tray with parchment paper.
Melt the chocolate and coconut oil in a bowl.
Toast the seeds in a pan.
Add the gubinge to the melted chocolate and the salt.
Fold in the seeds and fruit, pour onto the prepared tray and spread out leaving the mix about 1/2 cm thick.
Scatter with the chopped almonds and grate over the fresh orange zest.
Set in the fridge and once set, snap into pieces (approximately 35g each) and store in the fridge.
PDF Recipe Card You may need to right-click the link and 'Save target as...' to download this file.