News
Maggie's New Cookbook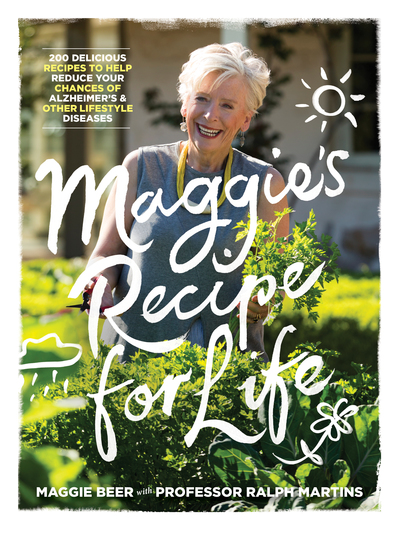 For those wondering whether Maggie's new cookbook would involve the subject closest to her heart, the answer is a resounding yes! And Maggie couldn't be happier about it, as she explains, "This is such an important book for me and something I'm so very excited about, which is why I'm thrilled to reveal the cover for 'Maggie's Recipe for Life', my new book co-written with Professor Ralph Martins."
Published in October 2017 by Simon & Schuster Australia, 'Maggie's Recipe for Life' includes 200 delicious recipes to reduce your chances of Alzheimer's and other lifestyle diseases. The book's proceeds will be shared between the Maggie Beer Foundation and the Lions Alzheimer's Foundation.
Paula Wolfert 's Avocado Sardine Toasts
Maggie's food hero Paula Wolfert believes this recipe to be a wonderful example of "brain food".
A combination of silky, paper-thin slices of ripe avocado and marinated fat strips of salty sardine fillets topped with crisp strings of scallions and chives makes for a great textural contrast; and is easy to duplicate and hard to forget.
Serves 4
Ingredients
4 tbsp extra-virgin olive oil
2 tbsp chopped flat-leaf parsley
1 tbsp sherry wine vinegar
Salt and freshly ground pepper
2 (4 1/2 ounce) cans Portuguese whole sardines packed in olive oil
1 large firm, ripe Hass avocado
4 to 6 day-old, thin slices of country-style bread
4 scallions (white part only) cut lengthwise into thin strips about 1 inch long
Chives for garnish
Method
Make a parsley vinaigrette by whisking together the olive oil with the parsley and vinegar in a medium bowl. Season with salt and pepper to taste.
Drain the sardines, divide into fillets, and soak in the vinaigrette for at least 1 hour. For easier slicing, chill the avocado in the refrigerator for 1 hour.
Using a mandolin or a 1mm slicing blade, carefully slice the avocado paper-thin. Remove the skin and pit as you slice.
Grill the bread, turning once on a grill over hot coals or in a fry pan with a little butter or oil until nicely browned on both sides. Drain the sardine fillets and lightly brush the toasts with the vinaigrette.
Pile 3 or 4 slices of avocado onto each toast, top with a portion of the sardines, and scatter scallions (spring onions, shallots) and a few chives on top. Serve at once.
Recipe © 2003 Paula Wolfert
From It's All About the Food not the Fork! – crackingrecipes.com
Vegepod - the complete vegetable garden kit

Most may know that Maggie is an avid gardener and one of her visions is that some day, every aged care home (and every resident!) will have access to a beautiful garden.
We know that many homes may not have the space, time or resources to build a garden - but there are products that exist that can help!
Vegepod is an innovative raised garden bed which is easy to manage and just perfect for an aged care home.
It uses a self-watering technology which waters the plants from below; and plants can last weeks without watering.
Vegepods also come in three different sizes that accommodate for any space, standing or sitting - meaning its perfect for those who are not as mobile.
You can find out more by visiting the Vegepod website.
"Lively"

Always keen to blow the trumpets of those contributing to the changing face of aged care, Maggie would like to let everyone know about a wonderful initiative called Lively.
The idea of the organisation is to bring together young jobseekers looking for experience, with those who have the time and desire to share a lifetime worth of knowledge - older people.
No young or older person feels unwanted or undervalued because of their age, and Lively sets about aiding both parties by simply bringing them together. By connecting the generations, meaningful employment is created for young jobseekers, while at the same time engaging older people to share skills and experience. With statistics of 2.5 million older Australians feeling ignored, unwanted or discriminated against because of their age, and 580,000 young people unable to find an employer who will give them a chance, because of their youth and lack of experience, Lively joins some very obvious and effectual dots to build a better future. One in which no person experiences exclusion or disadvantage because of their age, and in which all young and older people are supported to live meaningful, connected and fulfilling lives.
If you would like to know more about Lively and the important work they are doing, please visit Lively's website.
Tasting Australia Fundraising Lunch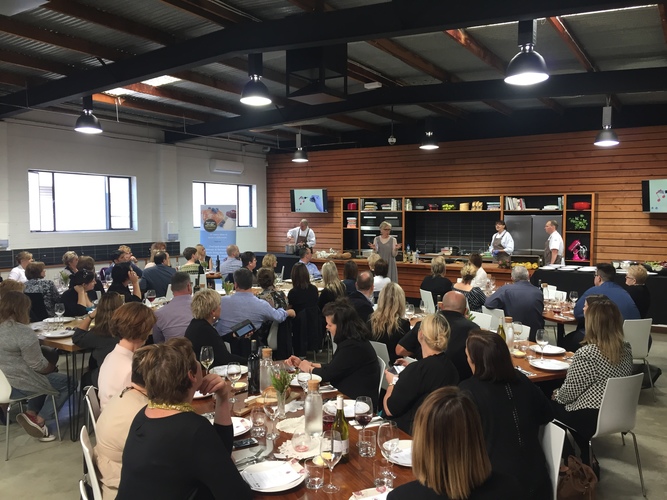 Maggie was thrilled to be able to take part in Tasting Australia, wearing her Foundation hat, again this year. As one of Maggie's all-time favourite food experiences, Tasting Australia offered the perfect platform to share "Improving With Age", a fundraising lunch at Sprout Cooking School in Adelaide, on Thursday 4 May, 2017.
A healthy mix of 70 MBF supporters, aged care providers and Tasting Australia devotees enjoyed 3 courses especially created for the event by HammondCare's Peter Morgan-Jones, and assisted by chefs Maria and Peter from Lifecare Aged Care.
The lunch kicked off with canapés by Peter Morgan Jones from his cookbook, 'It's all about the food, not the fork', followed by Maggie's Slow Cooked Lamb Shoulder with Preserved Lemons, and Parsnip Puree with Fresh Pear and Bitter Greens, as the main course.
Wine was generously provided by Langmeil Winery in the Barossa, and Maggie's Roasted Quince with Baked Vanilla Bean Crème Anglaise wrapped up the edible part of the day before a cooking demonstration with Peter Morgan Jones began the information sharing component of the event.
Peter's demonstration was followed by a Sensory dining experience presentation by Annet Hoek, a Virtual Dementia Experience by Christine Bolt from Alzheimers Australia, and a wonderful Vegepod garden set up by Tara Grahame Cochrane.
Maggie's intention with this event was to show not only what can be cooked for those in aged care, but what is possible in aged care overall. With a heartfelt thanks to all involved, Maggie was so happy to achieve her goal of sharing further information on creating an appetite for life.