News
Living Care Coffs Haven - Wellbeing Garden
Living Care Coffs Haven were lucky enough to secure a $2000 grant in 2017 from the Maggie Beer Foundation for a new edible garden through the Foundation's Wellbeing Gardens program.
"This is our beautiful and very productive garden at Coffs Haven. We have also installed a playground, BBQ and shade sails and the area is now being utilised by all. Staff, family and residents are planting and sharing and it is now a focal part of the Facility where people come together." Coffs Haven Manager of Residential Services, Lorraine Connor.
Maggie's belief is that from the nutritional benefit of an edible garden at the back door, to being involved in a flowering garden, everyone feels happier in a beautiful, outdoor environment.
"Having a space to be proud of, to 'potter in' and give a sense of purpose improves people's health and, for many, gardening enables them to undertake an activity that they have always loved".
"Wellbeing Gardens provide a space where elderly people, their families and friends can walk in the sunshine, breathe fresh air and socialise." Maggie
We were able to offer a total of 15 grants as part of our Wellbeing Gardens Program, thanks to the Yulgilbar Foundation.
The aim of the program is to provide residents within aged care homes access to a beautiful, outdoor, living environment.
Masterclass Graduates - where are they now?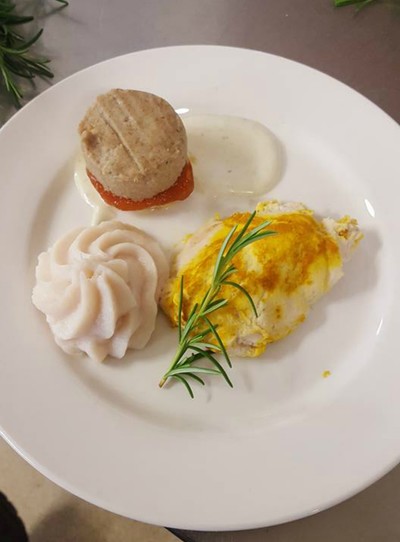 We love hearing what our Masterclass graduates are up to and believe it's important to celebrate the achievement of these 'Champions of Change.'
Benjamin Soutter, a Cater Care Key Account Manager in Victoria, is one of these champions. Ben has recently caught our attention with his fantastic work using moulds for texture modified foods. We asked Ben to give us an update on his journey after the Masterclass.
"In my time since the Masterclass, I have been working in the Aged Care sector to build on my experience and further develop my management skills. By working closely with my clients at Village Baxter and the Cater Care team, we have realigned some of our process in the kitchen to be able to roll out moulded food.
Since our first attempt, we have been in contact with Justine from Flavour Creations who was able to provide some extra training and support to our team at Village Baxter. We are looking to have moulded food form part of our daily routine early in the New Year.
The biggest challenge we face is the high number of modified diets to cater for and transportation logistics, especially on a site that is spread across 75 acres. The team is very excited and motivated to achieve this goal and provide the next level of food service to our residents, while I look forward to working with them to help them achieve this goal."
We are so proud of what our Champions are doing and we look forward to sharing more of these stories with you.
Mango, lime and coconut sago pudding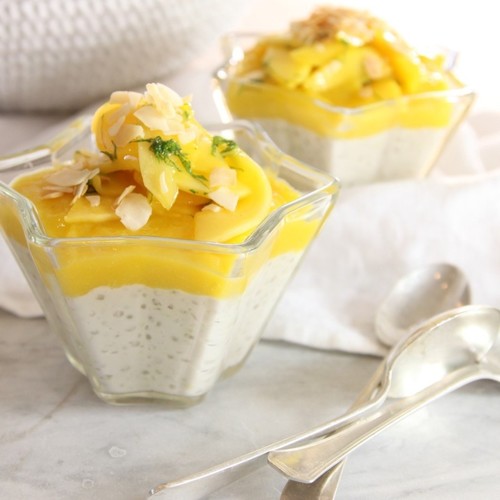 "Mango, lime and coconut are all flavours of the tropics that I love to call on in the heat of summer." Maggie
This recipe is from Maggie's new cookbook, Maggie's Recipe for Life which you purchase here.
SERVES 4 - 6
80 g sago
2 cups (500 ml) coconut milk
½ vanilla bean, halved lengthways and seeds scraped
Finely grated zest and juice of 2 limes
2 medium or 1 very large ripe mango
1 tablespoon very thinly sliced mint
3 tablespoons toasted coconut flakes
Method
Place the sago, coconut milk, vanilla bean seeds and scraped bean, and ¾ cup (180 ml) water in a medium saucepan and stand for 30 minutes.
Place the pan over medium heat and bring to the boil, stirring occasionally.
Reduce the heat to low and cook, stirring often, for 10–15 minutes or until the sago is tender.
Remove from the heat, strain and then stir in most of the lime zest. Divide the mixture among serving glasses or dishes, then cover and refrigerate for 1 hour.
To serve, peel the mangoes and cut off the cheeks. Thinly slice into a bowl and mix with the lime juice.
In a blender, puree one third of the mango and any flesh from around the seed.
Place in a bowl with the mint and stir. Spoon the mango puree over the puddings, then top with the mango slices.
Scatter with the coconut flakes and remaining lime zest and serve.
Aged Care Food Safety Tips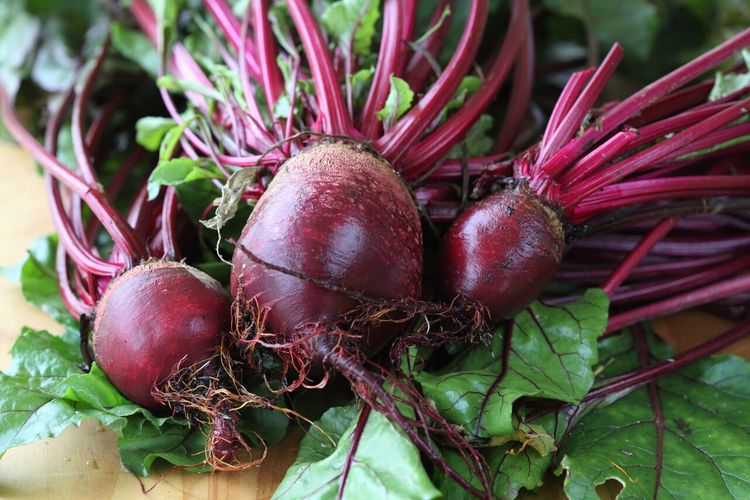 "It's really nice to show you care by cooking a special, favourite meal for the resident of an aged care home - perhaps culturally specifc food or a family favourite which is not normally available.."
It is so important to be aware of the potential risks surrounding food, especially when it comes to the elderly.
This does not mean they cannot enjoy the same foods they always have, it simply means we need to be aware of the risks and take extra precautions with our preparation.
The Food Safety Information Council has released a Food Safety Guide for Aged Care outlining the risks and the best way to mitigate these.
This is a fantastic tool for family members, friends and aged care home cooks alike.
The Village Glen ''Veggie Patch''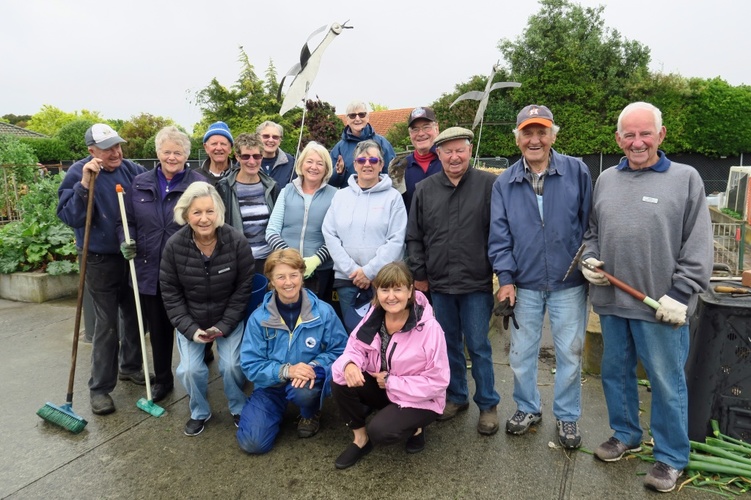 The Village Glen is a retirement village located at Capel Sound on the Mornington Peninsula in Victoria and boasts over 800 residents.
Thanks to their management team they have been able to establish a 300 plot vegetable garden and currently have over 100 volunteer gardeners ranging in age from 60 to 90+.
The garden is supplied by bore water from a healthy aquafer, has two sheds full of donated tools, three greenhouses, compost bins, regular working bees, monthly meetings, a community area and, most importantly, a wonderful community spirit. They even have their own website: www.ourveggiepatch.com
The benefits of having a vegetable garden in a retirement village are numerous. It provides a sense of purpose and the residents enjoy organically grown seasonal produce. They exercise, experience social interaction and have a healthy hobby.
They are also continually learning from experience, other gardeners and guest speakers at the monthly meetings. These volunteer gardeners often talk about the sense of peace and satisfaction they experience while working in the garden.
Most plants that are grown are successful if the plot owners work the sandy soil and keep the water at an optimum level – not too much or too little. Last Summer, they produce watermelons and pumpkins so big they had to be taken home in wheelbarrows! The biggest tomato was a Mortgage Buster at 750gms.
Many of the vegetables and herbs planted are taken from Maggie's new cookbook, Maggie's Recipe for Life, as they provide the nutrients needed for optimum brain health, and assist with the prevention of other lifestyle diseases.
Special thankyou to Barbara Collins who contacted the Maggie Beer Foundation to share their fantastic success story.